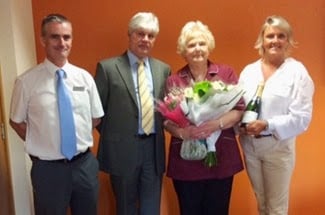 Margaret Crossman, a Kingdom Clean employee at County Mall Shopping Centre in Crawley, West Sussex, is retiring after 20 years of sterling service.
"Margaret has decided to hang up her mop and bucket in order to put her feet up and relax a little, and how well deserved that is after such dedicated service," said Kingdom Clean Operations Manager Patsy Kirk. "Margaret will be sadly missed, not only by her work colleagues but also centre management. She will be a very hard act to replace. On behalf of the company Margaret, thank you and well done! Enjoy a richly deserved retirement."
Centre Cleaning Manager Nathan Brewer added that he will miss Margaret who is "always reliable, conscientious, and more importantly always in a jolly mood with everyone she comes into day to day contact with."
Margaret was presented with flowers and champagne by Patsy and the Kingdom Clean Operations Director Peter Simpson, marking her retirement and thanking her for her hard work and effort.
Kingdom Clean provides cleaning and support services to County Mall Shopping Centre, which is situated in the heart of Crawley town centre and has over 90 leading high street shops. Services provided include grounds maintenance, hygiene services, environmental waste services and food court cleaning. For more information about Kingdom Clean, click here.