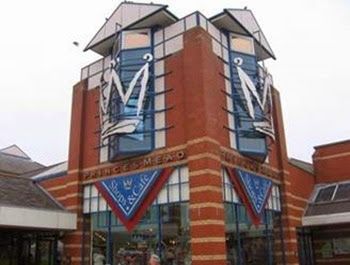 One of Kingdom Clean's clients, the Princes Mead Shopping Centre in Farnborough, has won a Green Apple Environment Award for their environmental improvement project.
Their project aimed to improve the shopping centre's "green" credentials", reduce inefficiencies, improve recycling and reduce waste to landfill. It also aimed to assist their bid to achieve ISO14001 accreditation, and to reduce waste costs to the service charge. The shopping centre was successful in achieving zero waste to landfill and managed to recycle 62.5% of their waste in the first year of the project, with the remaining 37.5% going to energy recovery. They were accredited with ISO14001 and are continuing to improve their efficiency levels.
Central to the success of the project so far has been Kingdom Clean's Brian Hockley. Brian works in waste management at the shopping centre, having joined the company in October 2012. A key part of his job is to sort out the waste from the shops on a daily basis and recycle anything that can be recycled, such as cans, cardboard and plastic. In an email to Kingdom Clean's Mark Day (Operations Director) and Barrie Richards (Director), the Shopping Centre Manager, Duncan Coombes, said: "Whilst we instigated the change, it has been Brian's efforts that have ensured we have been successful with this."
The Green Apple Award Trophy and certificate will be presented at a ceremony at the Houses of Parliament on Monday 10th November by Miss UK Green Queen. The award is part of a national campaign to find Britain's greenest companies, councils and communities. The shopping centre competed against more than 500 other nominations in the Green Apple Awards for Environmental Best Practice. Launched in 1994, the Green Apple Awards have become internationally recognised for identifying companies, councils, communities and countries that demonstrate environmental best practice, and attracts hundreds of entries each year.
As a result of this Green Apple Award success, the shopping centre has been invited to have their winning paper published in The Green Book, the leading international work of reference on environmental best practice, so that others around the world can follow their example and learn from their achievement. They could also progress to represent their country in the European Business Awards for the Environment.
Kingdom Clean has provided cleaning services to Princes Mead Shopping Centre in Farnborough since February 2010, and recently retained the contract for a further three years. Kingdom carries out all cleaning services to the site, both for the public areas and for the back of house. Kingdom also provides waste management services and janitorial services for the shopping centre.
Kingdom Clean is committed to using the best people, technologies and products. Kingdom Clean adds value by taking a pro-active stance towards site cleanliness and tidiness. They also advise on ways to cut cost, what tasks can be reduced, what time of day is cheaper or how to reduce electricity consumption or CO2 emissions when cleaning.
For more information about Kingdom Clean, click here to visit their website, and here to read their online brochure.