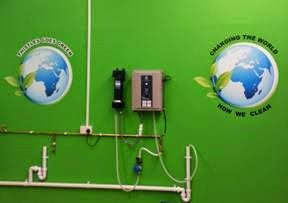 Part of a report by Kingdom Clean about the introduction of an aqueous ozone cleaning and sanitising system at the Thistles Shopping Centre in Stirling has been included in the latest issue of our client JLL's internal newsletter, "Shop Talk". Entitled "Thistles Goes Green", the article says:
"Year on year Kingdom Clean have been challenged by our "Centre of Excellence" management at "The Thistles Shopping Centre" Stirling, to introduce new systems and techniques in the cleaning industry, in an effort to improve service delivery and cost efficiencies, driven by Centre Manager Scott Wells and Kingdom Clean Operations Director Peter Simpson.
"The topic for 2014, was to "go green" and although all chemicals that have been introduced since our contract award have been "environmentally friendly" Kingdom Clean wanted to go one step further by introducing something entirely different. Scouring the market place for innovative ideas, it was decided a new cleaning system was to be introduced primarily based on a campaign at "The Thistles" entitled "THISTLES GOES GREEN".
"Chemical reduction was decided on as a route that would benefit not only the environment but also meet the Centre's desire to be innovative. The centre saw the installation of the "Aqueous Ozone" water system as well as diamond cleaning pads (a Kingdom Clean innovation for 2013 to use technology to reduce further chemical usage)."
Kingdom Clean has a very large contract with JLL, and providing cleaning services to the Thistles Shopping Centre in Stirling is part of that contract. Introducing the diamond cleaning pads last year and the aqueous ozone cleaning system this year has allowed Kingdom Clean to reduce chemical usage there to an absolute minimum, making the cleaning operation at the shopping centre virtually chemical free.
The new system was installed with minimum effort, taking just two hours and only requiring access to one power socket and a fresh water supply tap in the location the system was to be wall mounted, and a comprehensive training session was provided.
Kingdom's cleaning team at the shopping centre now only need to use small quantities of specialist chemicals such as brass and metal cleaner, chewing gum remover, and graffiti remover, as all other chemicals have been replaced by the Aqueous Ozone water system. It can be used on vinyl, concrete, terrazzo and stone, is ideal for appliance cleaning, and provides excellent results particularly with surfaces such as glass, stainless steel and chrome. It can also be used to clean bathrooms, escalators, handrails and virtually all fixtures and fittings. It also works well on hard to remove stains and grime build up.
The benefits of the new system are as follows:
• Cut the cost of buying, storing & mixing chemicals
• Eliminates multiple chemicals & guesswork
• Meets performance standards
• Excellent sanitising capability
• Increased productivity, safety & greenability
• On-demand availability
• Key factor is the COSHH data as explained in the diagrams below which is zero.
Commenting on the innovation, Peter Simpson, Operations Director at Kingdom Clean, said:
"Overall I would say the Lotus Pro Aqueous Ozone is an excellent product and the benefits are there for all to see. It is user-friendly, easy to train our staff on regarding usage and capabilities and more importantly reduces the Health and Safety preparation time and unnecessary documentation at site and administration level. Overall this is a complete success, improving Kingdom Clean's service delivery to our major client JLL."
For more information about Kingdom's site managed commercial cleaning and maintenance services, please visit their website: http://www.kingdom.co.uk/services/commercial-cleaning/