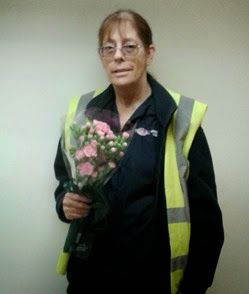 A Kingdom employee was overwhelmed to recently be presented with a bunch of flowers by a member of the public as a thank you for her excellent work.
Maureen Emery is the morning janitor at the Sovereign Shopping Centre in Weston-super-Mare. She was approached by a regular visitor to the shopping centre who praised her on how well the centre looked and how clean the toilet facilities were kept, and was presented with a bunch a flowers.
"To say she felt good is an understatement, and it reflects well on the centre and Kingdom", said Tony Soar, Kingdom's Site Manager at the Sovereign Shopping Centre. "It is always nice to be appreciated, so when an unknown member of the public says that the place looks well kept, clean and tidy we all feel good".
Kingdom has been providing cleaning services to the Sovereign Shopping Centre since 2009, cleaning the public areas and common parts, including back of house and management suite.
Kingdom delivers a supervisor of site-managed cleaning and maintenance service to commercial, leisure, transport and public businesses, and is committed to using the best people, technologies and products. For more information about Kingdom's commercial cleaning services, please visit their website.