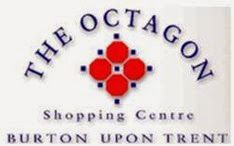 Kingdom Clean was delighted to recently receive a letter from a member of the public who was so impressed by our cleaning team at the Octagon Shopping Centre in Burton upon Trent, and one of our employees, Angela Soloman, in particular, that she went to the effort of writing to us to praise them. The letter read as follows:
I am writing to commend your cleaning team on the excellent cleaning job at the Octagon Centre, Burton. They work very hard and the upstairs toilets are absolutely spotless and the baby changing room is exceptional, it is a pleasure to use them.

I believe the lady that cleans these is a lovely cheerful person who is always polite and I believe her name is Angie.

She is a credit to the team and deserves a pat on the back. Whenever I see her she is busy but always has time to say good morning/afternoon.

People are quick to complain but never say well done, a good job.

Well I myself do say congratulations Angie and team, your standard of work is A1.
Well done to Angela and to the Kingdom Clean team at the Octagon Shopping Centre – keep up the fantastic work! Kingdom Clean has been providing cleaning and maintenance services to the shopping centre since August 2001, carrying out cleaning services to all areas of the shopping centre, including the food court, malls, facilities, management suite, back of house service areas and control rooms, and carrying out minor maintenance and repair works to the exterior of the building and the car parks.
The Octagon Shopping Centre is a fully enclosed shopping centre for all the family, all year round, in the heart of Burton upon Trent, Staffordshire. It is home to over 40 high street and local retailers and has a 700 space car park.
Kingdom Clean delivers supervisor or site-managed cleaning and maintenance services to commercial, leisure, transport and public companies, offering basic, specialist, deep and reactive cleaning, as well as waste management, janitorial service, hygiene supplies, landscaping, high pressure cleaning, kitchen and ductwork cleaning, graffiti and chewing gum removal, and is committed to using the best people, technologies and products.
For more information about Kingdom Clean, click here to visit our website.