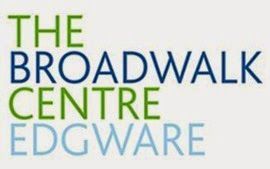 Kingdom recently carried out a specialist clean on the atriums at The Broadwalk Centre in Edgeware, London.
Two men from Kingdom's specialist cleaning division, along with a pest control team, worked throughout the night for three nights at the shopping centre whilst it was closed.
As part of the clean they had to remove the existing pigeon proofing and replace it once the work was completed. There were also several access issues, so they had to hire a mobile platform to carry out the work in certain areas. The work was carried out in conjunction with Transport for London, as they had to go into their bus lanes to reach certain parts of the high level work.
Following the clean, Kingdom was delighted to receive the following email from the Centre Manager, Angela Brooks:

On behalf of everyone at The Broadwalk I would just like to thank you and your team for the fabulous and amazing job you have done on our atriums – you never disappoint!
The best cleaning company ... Ever
Angela
Kingdom Clean delivers supervisor or site-managed cleaning and maintenance services, and is committed to using the best people, technologies and products. Kingdom Clean offers basic, specialist, deep and reactive cleaning services to commercial, leisure, transport and public companies, and also provides waste management, janitorial service, hygiene supplies, landscaping, high pressure cleaning, kitchen and ductwork cleaning, graffiti and chewing gum removal. For more information about Kingdom Clean, please click here to visit their website, or here to download their online brochure.
Located in the heart of Edgware town centre, The Broadwalk Centre welcomes over 130,000 shoppers a week. The shopping environment is inviting and attractive and consists of approximately 199,000 sq.ft of retail space, based on a simple single-level layout. It is home to over 40 retailers, and has 1,100 long and short stay car park spaces. Built in the late 1980's, it is now well established as the main shopping destination in Edgware and the surrounding areas, offering local value, convenience and choice, as well as easily accessible public transport links. Please click here to visit their website.