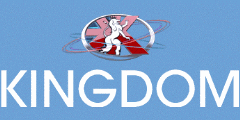 Kingdom is delighted to have been shortlisted for a Growing Business Award - Britain's most established and respected recognition of entrepreneurial success.
The Growing Business Awards are hosted by Real Business, supported by the CBI and in association with Lloyds Bank. They have been identifying and recognising Britain's most enterprising business leaders and finest high-growth businesses for more than 15 years.
All UK-based high-growth and entrepreneurial companies are eligible to enter, no matter the size or stage of their business. Real Business says that they have been inundated with interest this year, receiving a record number of nominations by quite a high margin. They noted that the quality of contenders has been fantastic.
There are 12 different award categories, with Kingdom having been shortlisted for the Growing Business of the Year award for a mid-sized company with turnover between £25million and £50million. The winners will be announced at a sparkling awards ceremony at the London Marriott Grosvenor Square on the 25th November 2014.
Kingdom is a national company that was formed in 1993. Business retention along with organic and acquisition growth has seen it become one of the largest privately owned companies in the UK within its areas of service expertise. Its services include security, commercial cleaning, environmental protection and mobile patrol. For more information about Kingdom, please visit their website www.kingdom.co.uk