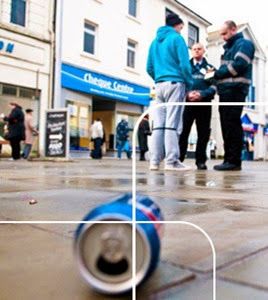 A councillor in Woking has had enough of seeing litter and cigarette butts dropped all over the town, and as a result Kingdom's environmental protection team is to start a four week pilot scheme there on Monday 3rd November.
Kingdom's officers will patrol the streets of Woking wearing real time body cameras, issuing fixed penalty notices and taking filmed statements as evidence from anyone seen deliberately dropping litter there, initially until Sunday 30th November.
Councillor Colin Kemp, who represents the Horsell West ward on Woking Borough Council and is also a county councillor on Surrey County Council, put forward a proposal at a council meeting on 10th July to tidy up Woking by hiring a commercial litter service to catch perpertrators in the act. Councillor Kemp, like many of the residents he represents, was fed up of witnessing "shameless" littering in Woking town centre. "I've seen people throw cigarette butts on the ground when they're two or three feet from a bin ... I think it's a mindset that people have", said Councillor Kemp. Council officers then put forward a proposal at an executive council meeting on Thursday 11th September to allow the scheme to go ahead on an initial trial basis with the scope for the service to be made permanent if proven to be successful.
Cllr Beryl Hunwicks, the council's environmental portfolio holder said: "I think after officer consideration we felt that it was a good idea and it was suggested that we as the executive recommend to council the motion is supportive. If it proves to be successful we can make it permanent. I think it will be very interesting going forward. It will be connected to another trial that we are making with Boots to encourage people to stop smoking. I'm very keen that we actually go ahead with this and see what happens."
Cigarette butts make up 40% of the rubbish collected from streets. Smokers who stubb out cigarettes on the ground in Woking have been given football-style yellow cards throughout the month of October as part of the council's You Butt In, We'll Butt Out campaign, coinciding with the nationwide Stoptober challenge which encourages people to give up smoking. This is an amnesty as offenders normally face a £75 penalty. Instead, offenders have been given a warning about the fine for failing to dispose of cigarettes properly, and the yellow cards have offered information to smokers on how they can get help giving up.
Anyone caught by Kingdom's environmental protection officers dropping cigarette butts in November will be fined £75, which will be reduced to £50 if paid within the month. They will also be given a blue card. This will offer them the chance to receive £50 in Boots vouchers if they give up smoking for four weeks. Carbon monoxide tests will have to prove that they have stopped smoking for four weeks. The campaign therefore aims to reduce litter in Woking as well as improve the health and wellbeing of residents.
Kingdom's environmental protection team helps local authorities around the country to tackle street litter and other anti-social behaviour, delivering over 130,000 environmental protection hours per year. The annual cost of cleaning the UK streets has been estimated at £780million. For more information about Kingdom's environmental protection services, please visit: http://www.kingdom.co.uk/services/environmental-protection/