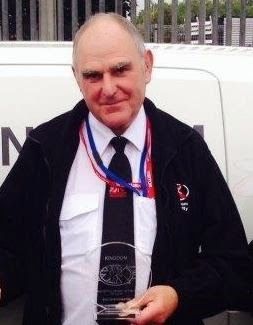 Kingdom is always delighted to receive positive feedback from clients, and was particularly pleased to receive glowing praise about one of their senior supervisors recently.
Paul Summerfield from Huegli UK Ltd wrote to Kingdom saying:
"I just wanted to officially go on record to show my appreciation to the professional, polite, knowledgeable and extremely helpful gentleman called Malcolm Dovaston.
This guy has displayed wonderful customer service and had extensive knowledge about our site which today has proved invaluable.
May I take the opportunity of saying what a credit he is to your company."
Malcolm Dovaston is a Senior Mobile Supervisor at Kingdom who works on the mobile patrol in the Birmingham area.
"Mal" has been with Kingdom since July 2006 and is a very experienced mobile supervisor who has excellent knowledge of both security and supervision.
He has proven himself in the past to be a valued member of the mobile division and did in fact win Kingdom's Mobile Driver of the Year Award last year. Nothing is ever too much trouble, and Mal has often gone above and beyond the call of duty. He is a highly respected member of the Kingdom mobile division. Congratulations and thanks to Mal, who is a credit to Kingdom.
Kingdom has provided mobile patrol, lock and unlock services for Huegli UK Ltd since 2012. Huegli is an international food company that specialises in the production and distribution of soups, sauces, bouillons, seasonings, antipasti, pasta and rice meals. The family business was established in 1935 and their UK operations are based in Redditch.
Kingdom's UK wide mobile patrol service provides the perfect solution for a cost-effective, efficient and visible deterrent on low risk sites to provide pre-determined or roving mobile patrols from a simple visual drive-by to a dull walk and check or lock and unlock function. They complete over 93,000 mobile visits per annum.
Kingdom employs local people with local knowledge, and all their mobile patrol personnel are Security Industry Authority (SIA) licensed, uniformed and trained. Their vehicle fleet is Kingdom branded and fully equipped to visit and inspect premises at agreed frequencies and physically patrol and check for damage or intrusion or to lock or unlock premises.
To find out more about Kingdom's mobile patrol, lock and unlock service, please visit http://www.kingdom.co.uk/services/mobile-patrols/.