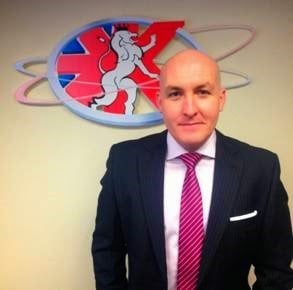 Kingdom is pleased to welcome Barry Graham to Kingdom, who joins the company as the new Service Delivery Director of Logistics.
Barry was Director of CDO Group Ltd, the company that he created and ran. Barry joined Kingdom on 9th March 2015 when Kingdom acquired the company. Before working in the security industry, Barry served in the Royal Marines. He left the Marines on a Friday, and was a security officer in a food factory on the following Monday. He now has 15 years experience in manned guarding in food manufacturing and logistics under his belt. He created CDO from scratch based on his experience of having held most security roles in the industry. CDO is an abbreviation of Commando, a reference to his time in the Marines.
Outside of work, Barry fosters kids in care long term. He is currently fostering two young boys and "just trying to make a difference in their lives and give them a good, stable family home and better start in life". Barry is also a keen cyclist and loves music and watching films (his favourite film is Pulp Fiction). His favourite food is Italian, and his favourite holiday was when he went to New York. He is most proud of his beautiful daughter, getting his green beret, and of creating a business that people took pride in ... and his shoes!
When asked who he would like to sit down and have a drink with, he replied Quentin Tarantino, as "not only is he a cinematic genius, but he would probably also have the best contact list in his phone ever!"
Speaking about his new role as Director of Logistics, Barry said: "You will find a relentlessly energetic enthusiastic Director with a 'can do' attitude. I'm a professional who loves working with people and achieving goals. My main focus will be on growing and developing the Kingdom logistics division to a position of best in class service."
Welcome to Kingdom, Barry!