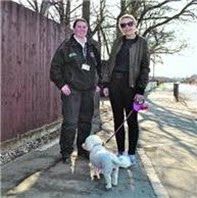 A recent article in the Rhyl, Prestatyn and Abergele Journal entitled "Campaign to tackle dog fouling in Denbighshire" reported on a campaign that Kingdom environmental protection officers have been implementing in Rhyl on behalf of their client, Denbighshire County Council. The article was based on a press release issued by the council. The photograph that accompanied the article was of Kingdom's team leader in Denbighshire, Charlotte Walker, with a responsible dog owner. The article said:
"Members of the public have supported high visibility activity arranged as part of a campaign to tackle dog fouling in Denbighshire.
"This week, the Council's enforcement team visited Gypsy Lane off Bryn Cwnin Road, Rhyl - an area designated a 'hot-spot' for problems with dog fouling.
"Officers spoke with approximately 20 dog walkers and dog owners who were supportive of the Council's approach and called for enforcement action against the minority who allow their dogs to foul in public. Dog bags and leaflets were handed out to the walking public.
"One person was issued with a fixed penalty notice for allowing their dog to foul in public without cleaning up after them.
"Tim Wynne Evans, Public Protection Officer (Community Safety), said: "The team was delighted with the response to this high profile activity. Some motorists stopped their vehicles to speak with enforcement officers, such was their strength of feeling about dog fouling.
"'We will be carrying out more of this kind of activity over the coming weeks, as it really helps us get the message out there that dog fouling is anti-social and will not be tolerated in Denbighshire.'
"Emily Maddocks, who also lives in Rhyl said: 'It's really horrible, disgusting behaviour to see dog mess on our pavements and footpaths. The number of times I've taken the dog out for a walk and stepped in dog mess. It literally takes a few second to pick up and I just can't understand why people don't do it'."
Kingdom has been providing environmental protection services, tackling litter, dog fouling and dog control orders, in Denbighshire since November 2012 and also support the council's licensing department. In February alone, Kingdom's environmental protection officers issued 50 notices for dog fouling in Denbighshire, which was a remarkable figure. Last year, a survey by Keep Wales Tidy found that Denbighshire has the cleanest streets in all of Wales, and that it was the only county in Wales to have seen a continuous increase in its cleanliness indicators.
Kingdom's environmental protection division is led by experts with an ex-police and military background. Their specialist teams deliver over 130,000 environmental protection hours per annum on behalf of local authorities like Denbighshire County Council. They issue fixed penalty notices (FPNs) to offenders who are seen breaking the Environmental Protection Act 1990 in streets, parks and open spaces to reduce anti-social behaviour. As well as tackling dog fouling and control orders they also tackle street litter, commercial and residential waste and waste disposal licence checks, smoking in prohibited areas, the illegal distribution of free material, criminal damage, graffiti and fly-tipping & posting. For more information, please call Kingdom on 0845 051 7702 or visit http://www.kingdom.co.uk/services/environmental-protection/