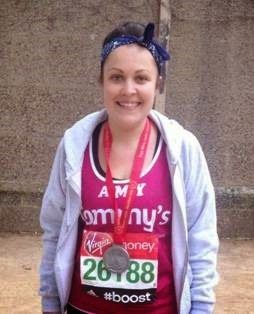 Kingdom is very proud of the achievements of employee Amy Gunther, who provides reception and concierge services for Kingdom's client Knight Frank, the world's leading independent real estate consultancy, at 125 Shaftesbury Avenue in London. Amy recently completed the Virgin London Marathon to raise money for charity. Amy has so far raised over £2,000, which is an absolutely incredible achievement.
Amy joined Kingdom in February 2014, and has since made some significant changes to her life, losing over 2 stone, training for, taking part in and completing the London Marathon despite a number of people telling her that she wouldn't be able to do it.
Amy made the decision last year to run the London Marathon to raise money for Tommy's. This charity funds medical research into the causes of premature births, stillbirths and miscarriages. They have set up three research centres in the UK, in St Thomas Hospital in London, St Marys in Manchester and the recently established centre in the Royal Infirmary in Edinburgh. Each centre focuses its research efforts on different issues relating to pregnancy.
Tommy's also provides research-based information about pregnancy health issues for medical professionals and parents-to-be. This includes a dedicated telephone midwife service, a comprehensive website and free books and leaflets dedicated to promoting health in pregnancy and pre-pregnancy.
Tommy's wants to give every baby the best chance of being born healthy. At the moment, one in four women in the UK loses a baby during pregnancy or birth. By 2030 they want to halve the number of babies who die during pregnancy or birth. They are supported by people who want to do something about the lack of research and information around pregnancy issues like miscarriage, stillbirths and premature births. To find out more about Tommy's, please visit http://www.tommys.org/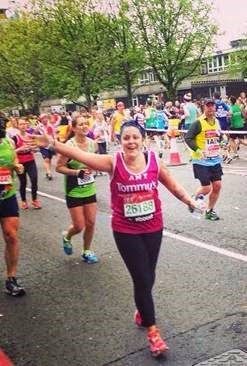 Explaining why she took part in the London Marathon, Amy said:
"This charity is very close to mine and my family's hearts.
"On 5th March 2013, my beautiful baby cousin Ciddy was born prematurely at 27 weeks and 5 days weighing just 2lbs 2oz. Against all the odds, Ciddy was a fighter. After one week, Ciddy was allowed his first cuddle with his Mummy and after months of special baby care and two emergency trips to St Thomas's special baby care unit, Ciddy was allowed home to his family.
"I want to raise as much money and awareness as I can for such a great cause to try and prevent this happening in the future."
Speaking about her fundraising efforts at a team meeting at 125 Shaftesbury Avenue following the event, Amy said: "I am so proud of myself. It was tough going but so worth it!"
The Virgin Money London Marathon is one of the great British sporting events, combining elite athletics, mass participation and record-breaking fundraising in one race. The course is a gruelling 26 miles 385 yards long, passing through the streets of London from Blackheath to the famous finish line at The Mall.
If you would like to sponsor Amy and donate to Tommy's you can still do so via her Virgin Money Giving page - http://uk.virginmoneygiving.com/amyrunsforciddy