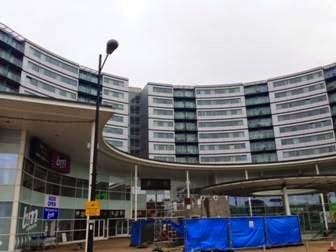 Kingdom's Cleaning Division provides an annual high level clean to The Blenheim Centre shopping mall in Hounslow, and has just finished carrying out the annual exercise for this year.
Specialist members of Kingdom's Cleaning Division have spent the last three weeks working on the shopping centre to make sure it looks perfect, and have carried out a complete building clean, including a full fascia clean, a full window clean, a full cladding clean, deep cleaning, jet washing the front piazza and surrounding pavements and chewing gum removal.
Following the high level clean, the team were rewarded with a crate of beer each from the client, and Kingdom's Cleaning Division was delighted to receive the following email from Jessica Smith, the Centre Manager at The Blenheim Centre, saying:
"I just wanted to bring to your attention the exceptional job your mobile team has done over the last few weeks, and I'd like to highlight Jim in particular for the great job he has done on my toilet floor.
I was almost speechless as to the high standard Jim managed achieved on the floor, which as you are aware is saying something.
Please pass on my thanks to your guy's on a job well done."
As well as providing annual high level cleans, Kingdom's Cleaning Division has been providing daily site managed cleaning services to The Blenheim Centre since January 2014. Their regular duties include taking care of car parks, circulation roads and public amenities. Kingdom's cleaning services also include specialist window cleaning services, hygiene services and the provision of toilet requisites.
Kingdom's Cleaning Division provides site managed commercial cleaning and maintenance services to show company's values in their very best light. They are committed to using the best people, technologies and products. They add value by taking a pro-active stance towards cleanliness and tidiness, and also advise on ways to cut cost, what tasks can be reduced, what time of day is cheaper or how to reduce electricity consumption or CO2 emissions when cleaning.
Kingdom provides basic, specialist, deep and reactive cleaning services to commercial, leisure, transport and public circulation clients. They also provide waste management, janitorial service, hygiene supplies, landscaping, high pressure cleaning, kitchen and ductwork cleaning, graffiti and chewing gum removal. For more information about Kingdom's Cleaning Division, please visit http://www.kingdom.co.uk/services/commercial-cleaning/ or call 0845 051 7702 for information and an immediate quote.
The Blenheim Centre is the place for everything you need in the heart of Hounslow, whether that is shopping, eating, going to the gym or visiting the doctor. Facilities at The Blenheim Centre include Asda, The Gym, Explore Learning, Jungle VIP and B&M Bargains. Stores are either open 24 hours or until late. It is easily accessible by tube, bus and car, and has a 400 space car park with parking available 24 hours a day, 7 days a week, making the centre exceptionally convenient. For more information about The Blenheim Centre, please visit http://blenheim-centre.com/