The Morgan Sindall Group PLC were appointed to deliver early years nurseries for North Lanarkshire Council in 2021.
Kingdom provided an array of security solutions at all 9 sites. This included CCTV, mobile response, manned guarding and mobile patrols.
Morgan Sindall Group plc is a leading construction and regeneration group with a turnover of over £3.0 billion.
They operate throughout six divisions of construction and infrastructure, fit out, property services, partnership housing, urban regeneration, and investments. The group works on everything from small scale fit outs and utilities projects to major urban regeneration schemes.
In 2021, the Morgan Sindall Group plc were appointed to build early years nurseries worth a development value of £17,500,000 by North Lanarkshire Council and their development partner hub Southwest Scotland.
We worked alongside Morgan Sindall Group to assist with the provision of site security services at nine sites throughout the duration of the project.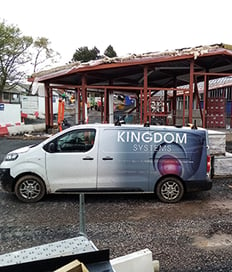 This included CCTV protection at all nine sites including the perimeter, cabins, plant machinery and the structures as they progressed.
The CCTV service was fully monitored and backed up by our mobile response services, along with manned guarding and scheduled mobile patrols that were conducted at various stages.
However, each site provided their own unique challenges.
There was no mains power available at the groundworks stage of each of the nine sites, and as the developments progressed, the lines of site and layouts changed frequently. So, we worked closely together to implement various actions and procedures to resolve the issues we faced.
Our Engineers designed bespoke CCTV solutions, built around the requirements of each site. The first installs saw our Self powered AI CCTV Towers utilised, which gave the sites 360-degree, 24-hour protection spanning 140 metres.
The methanol fuel source solved our lack of power until the sites progressed, site offices were set up and mains power was installed.
Regular reviews were undertaken, and camera relocations carried out as required to ensure total coverage of the client's site and assets. The client was issued with a remote login facility for the camera system on site, providing access to live footage as well as stored recordings.
The different security solutions we implemented ensured all nine sites remained fully secured and totally covered throughout the life of the developments, resulting in peace of mind for the client and site management teams.
As a result of our security solutions, 24 intrusions were detected and prevented from escalating to a more serious outcome. 3 intruders were also arrested and charged.
Jim Wilson, Senior Project Manager at Morgan Sindall said:
"I have had the Kingdom CCTV systems on my current project since July last year and to date it has been a pleasant hassle-free experience. The system is designed so well that it can easily be installed almost anywhere onsite to meet the demands of our project. It can also be easily added to as a project progresses. The service of the Kingdom management has been excellent from start to finish."
If you're interested in finding out how we can support you and your business with our single security service offering, get in touch today by clicking the button below.