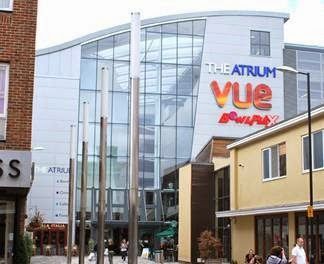 Kingdom's cleaning team have been praised following a serious incident that took place at The Atrium Shopping Centre in Camberley on Saturday 6th December. There was a ram raid at the shopping centre in the early hours of the morning which resulted in a large amount of cash being taken. The incident also caused extensive damage to the property.
Kingdom's cleaning team, together with the shopping centre's security team, were required to spring into action to ensure that the shopping centre was ready and in pristine condition for the trading day ahead – the first Saturday in December - which is traditionally one of its busiest of the year. They worked against the clock under extreme pressure and without any hesitation to clean up the areas, and were called in on their days off to ensure that Kingdom had their full complement of staff to complete the operation.
Commenting on the fast moving clean-up operation, Peter Simpson, Operations Director at Kingdom Clean said: "The team coped admirably in what was a great team effort in difficult circumstances, and further demonstrates that Kingdom Clean remains committed to our clients requirements and emergency procedures when needed. Narjang Gurung, the site supervisor and his team carried out a fantastic and very professional job on behalf of our client so well done to Narjang and the cleaning team at The Atrium. I am extremely proud of them all."
Adam Talbot, the Centre Manager at The Atrium, said: "The teams had to work above and beyond today to minimise the impact to the centre and the tenants following the ram raid this morning. A big thank you to the teams for getting the centre up and running on what is one of the busiest days of the year." JLL Chairman for Retail Management, Catherine Lambert, also wrote to thank everyone for their efforts and to say well done.
Kingdom delivers a supervisor or site-managed cleaning and maintenance service committed to using the best people, technologies and products. They add value by taking a pro-active stance towards site cleanliness and tidiness.
Kingdom provides cleaning services to commercial, leisure, transport and public circulation clients, which include basic, specialist, deep and reactive cleaning, as well as waste management, janitorial service, hygiene supplies, landscaping, high pressure cleaning, kitchen and ductwork cleaning, graffiti and chewing gum removal.
For more information about Kingdom's cleaning services, please visit http://www.kingdom.co.uk/services/commercial-cleaning/.