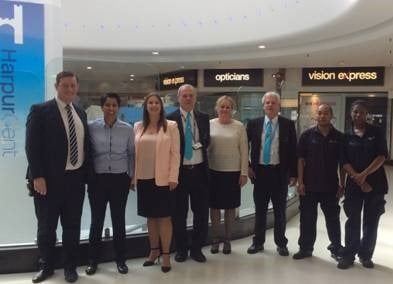 Kingdom is always pleased to receive feedback from clients, and was particularly delighted to receive the email below from Samantha Laycock, the Centre Manager at The Harpur Centre, Bedford's premier shopping centre. Kingdom recently won the contract to provide security services to the shopping centre and also had their contract to provide cleaning services to the centre renewed. The email said:
"We would like to take the time to thank you and your teams for an excellent mobilisation and contract start to both our security and cleaning provisions.
"From the notification that Kingdom were successfully awarded the contract for security and cleaning, your teams immediately began to communicate fully to both us as the Client and individual team members who were involved in the TUPE process. Feedback from the teams showed they felt supported throughout the changeover and as Clients, we felt reassured as all our needs were met promptly and assistance given when required.
"You have both taken the time to personally oversee the process fully and have utilised Ryan and Michael at site level to ensure the AI's and documents are all site specific, equipment is designed to improve current standards and uniform requests were actioned.
"We have already benefitted from the influence Satia has across Kingdom's various teams as areas such as HR, Communication Centre etc. They have all been very helpful and communicated directly from the beginning. We have had several calls with the Communication Centre and can feedback everyone we have come into contact with has been very polite, professional and responsive.
"On my return from two week's annual leave at the pivotal time and contract start date, I was pleased to return to a fully operational system and all teams proud and positive to begin a new term. Thank you for supporting Ryan and Michael through this time and reacting to their requests.
"The little finishing touches including Kingdom mugs and pens all adds to bringing the team fully onboard and it was great to see Robert pop by to visit a site he had an important role in securing. It has been a pleasure to meet Sharon from the cleaning division and look forward to working with you all closely.
"We look forward to enhancing our current position with you all in partnership. Please pass on our positive feedback to your Line Managers."
Kingdom has been providing seven days a week cleaning services to The Harpur Centre for the past three years, including keeping the car park, service corridors and shopping mall clean. Kingdom also provides periodic cleaning services to the centre. The new security services that Kingdom is providing to the centre includes providing a permanent manned security presence in the shopping mall, security services for the car park and CCTV coverage throughout the centre site.
Established in 1993 and operating nationally, Kingdom is one of the largest privately owned companies in the UK within their areas of service expertise. They offer a complete support service to their customers. They specialise in risk, loss and the protection of property, people and brand. Kingdom is an established retail specialist with a dedicated retail division working in partnership with some of the biggest names to reduce shrinkage and provide a return on investment. To find out more about Kingdom's retail division, please visit http://www.kingdom.co.uk/services/retail-security/ or https://www.kingdom.co.uk/systems for an immediate quote call 0845 051 7702.
Kingdom's Cleaning Division aims to show your company values in their very best light. They deliver a supervisor or site-managed cleaning and maintenance service committed to using the best people, technologies and products. For more information about Kingdom's Cleaning Division, please visit http://www.kingdom.co.uk/services/commercial-cleaning/ or for an immediate quote call 0845 051 7702.