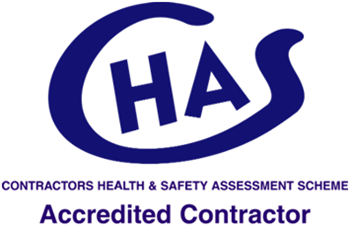 Kingdom is very pleased to have had its CHAS accreditation renewed for another year.
CHAS stands for the Contractors Health and Safety Assessment Scheme.
It is the largest and the fastest growing Health and Safety assessment scheme in the UK, and is dedicated to completing health and safety pre-qualification assessments to a nationally recognised and accepted standard.
CHAS has two main aims:
· To improve health and safety standards across Great Britain
· To reduce duplicated safety applications for both suppliers and buyers
CHAS assesses applicants:
· Health and safety policy statement;
· Their organisation for health and safety;
· Their specific health and safety arrangements to a standard acceptable to our buyers and to others.
More than 600 public and private sector buyer organisations, including councils, housing associations, NHS trusts, and a growing number of large private companies who employ sub-contractors, use CHAS, as well as over 53,000 suppliers.
Like most other health and safety pre-qualification schemes, it operates on an annual assessment cycle. Kingdom's latest CHAS accreditation is valid until 4th August 2015.
To find out more about CHAS, click here to visit their website.
Established in 1993 to influence and inspire the security marketplace, Kingdom specialises in risk, loss and the protection of property, people and brand. With over 20 years industry experience, Kingdom is one of the largest privately owned security companies in the UK, and holds all appropriate industry, safety and quality accreditations. To learn more about Kingdom, click here to visit their website.