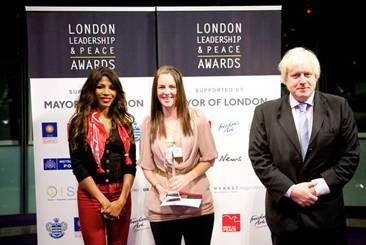 Following her success at last week's London Leadership and Peace Awards 2014, the brave actions of one of Kingdom's environmental protection officers, Jenna White, have been written about in London's leading regional evening paper, the London Evening Standard.
The article, entitled "Female enforcement officer who chased down four suspects as they mugged pensioner commended" was written by the London Evening Standard's Crime Editor Justin Davenport, and also featured on the website London News. A photograph was included with the article showing Jenna receiving her award at City Hall in London on Wednesday 10th December, standing between singer Sinitta and London Mayor Boris Johnson. The article said the following about Jenna and her actions:
A litter enforcement officer who chased and tackled four suspects after they tried to mug an old lady has won an award for courage.
Jenna White, 26, single handedly took on the four - two men and two women - as they tried to grab the pensioner's handbag in Edmonton Green shopping centre.
Ms White called police on her radio as she ran after the group and she grabbed two of the suspects while police officers tackled the remaining two.
Employed as a litter enforcement officer for Enfield Council she said : "Instinct took over and I just took off after them. I shouted at them to stop and they all ran off together.
"I caught up with two of them and grabbed them and brought them back. It was a natural reaction but a bit out of the ordinary.
"I normally get to stop people dropping their chicken boxes on the floor."
Ms White won the 'courage award' at the London Leadership and Peace awards held to celebrate Londoners judged to be "community champions."
Backed by Boris Johnson and hosted by singer Sinitta and Tory peer Baroness Berridge, the awards included six winners from dozens of people and groups nominated by Londoners.
To read the full article in the London Evening Standard, please click here, and to read Kingdom's write up of Jenna's award, please click here.
Jenna was nominated for the award by Enfield Council, who were delighted with the result. Kingdom has provided environmental protection services to the council since 2009, helping to clamp down on people who drop rubbish in the borough's streets and parks. Four wardens from Kingdom patrol the borough and are empowered to issue Fixed Penalty Notices (FPNs) to offenders who are seen breaking the Environmental Protection Act 1990 in streets, parks and open spaces.
Kingdom's Environmental Protection teams tackle street litter, dog fouling and control orders, commercial and residential waste and waste disposal checks, smoking in prohibited areas, the illegal distribution of free material, criminal damage, graffiti, fly-tipping and posting. For more information about Kingdom's Environmental Protection services, please visit their website: http://www.kingdom.co.uk/services/environmental-protection/