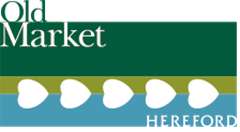 Kingdom is delighted to announce that one of their cleaning clients, Old Market Shopping Centre in Hereford, has won a prestigious award, and that Kingdom's cleaning team have been praised for their role in helping them to win the award.
Kingdom provides cleaning and support services to Old Market Shopping Centre, which opened for business on 1st May 2014 and was the first major retail development in Hereford for 25 years. The centre is a new £90million development in the heart of Hereford city centre. The 310,000 square foot open-air retail and leisure scheme, the site of Hereford's former livestock market, is made up of 18 shops (including a Debenhams spanning across three floors and Hereford's first Waitrose), 8 restaurants, a cafe, 5 kiosks, a six-screen Odeon cinema, 600 car park spaces and new public squares and spaces. The development has generated 1,100 jobs and pushed Hereford 29 places higher in the UK retail rankings. To read about Kingdom's role in the opening of Old Market, click here.
The centre recently won the BCSC (British Council of Shopping Centres) Gold Award for "New Centre of the Year" at the BCSC Annual Dinner on 3rd December 2014 at the Grosvenor House Hotel in London. The award was a huge privilege for the centre, especially as they were up against some stiff competition including Wembley Designer Outlet, New Square West Bromwich and Vanguard Park York.
Following the award, the Centre Manager, Scott Lahive, wrote to Kingdom Clean's Operations Director Peter Simpson, saying:
"The efforts of the Kingdom team from yourself down must be commended, in particular the work undertaken at short notice to prepare the centre for the judges' visit. You weren't give much notice but as always you were amenable and uncomplaining and delivered a fantastic result, fully understanding the important of the task and relieving stress. I say this genuinely, I have never worked with a contractor whom I have so much faith and confidence in, you always go one step further and exceed my/our expectations, the relationships you build with others is unrivalled.
"Old Market was selected as the win for a number of reasons, the design, integration with the existing city and 2 other reasons for which you and Kingdom played a part in. Those factors were centre staff working with the local community and look and feel of the scheme with an evidently motivated workforce.
"A big thank you from myself, Smith Young and British Land for your part in our success. Kingdom's unrelenting, yet encouraging approach coupled with exceptional role modelling is greatly appreciated and the reason Old Market sees impressive results, which as you are well aware was a challenging launch.
"Once again thank you to you and the team for your support and help, long may it continue."
Kingdom Clean provide supervisor or site-managed commercial cleaning and maintenance services for leisure, transport, public and commercial circulation. Kingdom are committed to using the best people, technologies and products to provide a leaner, smarter and more connected organisation to enhance companies performance, providing results which they can measure and control.
For more information about Kingdom's site managed commercial cleaning and maintenance services, please visit http://www.kingdom.co.uk/services/commercial-cleaning/.