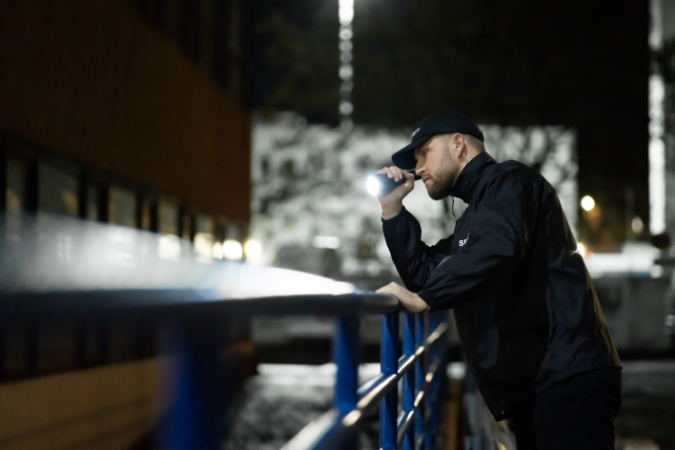 If your business's intruder alarms trigger in the middle of the night, you need a robust and reliable security solution that responds immediately and mitigates the risk of losing your valuable assets. Many businesses have taken advantage of professional keyholding services, so in this article, we'll discuss the benefits and how they can help to keep your staff safe.
What Is Keyholding Security?
Businesses are most vulnerable when they are unoccupied, such as overnight or during weekends. With more than 600,000 crimes carried out against UK companies each year, it's clear that the threat of crime must be taken seriously. However, it's equally important that business owners and premises managers consider what to do should the worst-case scenario occur.
In a keyholding service, a copy of your business's keys and alarm codes are held securely by a professional security company. In the event of a disturbance that triggers the alarms – or even a false alert – highly trained and experienced security staff will attend the premises to evaluate the situation and determine if action should be taken.
Eliminating The Need For Employee Response
Key holding services eliminate the burden on employees to respond to security incidents, alarms, or emergencies. Staff members may not have the necessary knowledge or experience to know how to respond to a critical incident, such as a burglary, whereas professional security personnel are specially trained for a variety of situations. This minimises risks and allows employees to focus on their primary responsibilities without compromising their safety.
24/7 Availability
Keyholders are available around-the-clock, including outside regular business hours, to handle security situations that arise. Whereas employees designated as keyholders would be expected to attend the premises at any time of day or night, even when they are with family or trying to sleep, professional security staff are on-duty and ready to respond as soon as a problem occurs. Knowing that security staff are available to deal with incidents provides peace of mind for employees and fosters a safer working environment.
An Effective Deterrent
A professional keyholding service acts as a strong deterrent to potential criminals who, aware of a swift and capable response if they target a business, are less likely to take the risk of being apprehended. In contrast, if a regular employee is tasked with attending a burglary or other incident, perpetrators may proceed with their plans and may act violently or confrontationally should they come face-to-face with the staff member. Professional keyholding can reduce crime and offer robust safeguards to protect employees health and wellbeing.
Reduced Legal Liabilities
By entrusting your business's security to a professional key holding service, your organisation can reduce the risk of legal liabilities. Key holders are comprehensively trained in security protocols and procedures, ensuring that incidents are handled proportionately and within legal boundaries. This minimises the risk of harm to employees that could result in legal consequences and negligence claims. By mitigating these risks, your business can focus on its core operations and provide a safer working environment for staff.
Contact Us To Find Out More
At Kingdom, our nationwide keyholding and alarm response service can help to keep your employees safe should your business face criminal threats or disruptions. To find out more about our highly trained and reliable keyholders, please call us on 0330 022 9422 or message us here.
Image Source: Canva