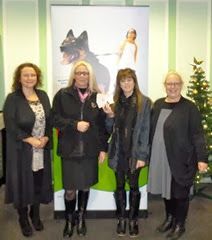 Following the recent launch of Kingdom's "Bin it to Win it" campaign in Conwy County Borough Council, we are delighted to announce that local resident Shelley Faulkner has been rewarded for binning her litter by receiving £50 in local shopping vouchers.
'Bin it to Win it' is an initiative of Kingdom Security who work in partnership with Conwy County Borough Council to tackle the issue of littering and dog fouling. It encourages member of the public to dispose of their litter responsibly.
All members of the public have to is put their litter in a bin. If they are spotted doing so by one of Kingdom's Enforcement Officers out on their regular patrols, they will be praised for their actions and receive an entry form for the monthly prize draw win a prize of £50 to spend in local shops.
Winner Shelley, of Old Colwyn said, 'I was in Llandudno at the time and had just put my cigarette stub in a bin and was surprised to be given an entry form for the competition by one of the enforcement officers. I think it's a great incentive as it will encourage everyone to dispose of their rubbish correctly and not throw it on the ground'.
Rewarding members of the public who act responsibly and display environment awareness is part of Kingdom's strategy for tackling litter and dog waste in Conwy. The County Borough Council spend around £2.5million each year street cleaning. Click here to learn more about our legal and enforcement services, or here to read more about our "Bin it to Win it" scheme.