Kingdom support Arrow XL with our expert recruitment and security solutions.
We have implemented various improvement actions and procedures, that have significantly developed their previous security and recruitment measures.

Arrow XL are the UK's largest multi-user two-person home delivery and warehousing specialist, delivering parcels to 98% of the UK's population.

We proudly work alongside Arrow XL to provide our professional security and recruitment services.

Kingdom Recruitment work alongside the team at Arrow XL to provide warehouse staff, drivers and call centre staff.

Situated next to some of the UK's largest employers of warehouse staff, they faced a major challenge when it came to recruiting and retaining temporary staff.

To resolve this, we assigned a full time Account Manager on site to provide support for our staff, which in turn improved attendance and reduced leavers.

We also introduced weekly sessions for Kingdom colleagues to discuss any issues and installed a time and attendance system to ensure payroll mistakes were kept to a minimum.

We are now the main supplier of temporary staff, and we now support Arrow XL with staff in both the call centre and transportation department.

Since December 2018, we have also supported Arrow XL with best-in-class security solutions on an ongoing basis.

When awarded the contract, we identified the Assignment Instructions (AIs) were an immediate area for improvement. Assignment instructions are a reference manual containing information which is needed for Security Officers to carry out their duties effectively.

So, we introduced "walk through, talk through" assignment instructions. These AIs explain all elements of the officer's role and the delivery of each task, to provide ongoing refresher training and improve compliance. This significantly enhanced the existing Assignment Instructions from a basic level to a more detailed comprehensive level.

By comprehensively covering all day-to-day processes that an officer would encounter on their daily duties, we have demonstrably improved competence across all sites.

Arrow XL tested our improved AIs by assigning a manager who had no idea of a Security Officers responsibilities to carry the role of the officer by only following the AIs. The manager was easily able to complete the required tasks in a compliant manner – proving that the AIs were fit for purpose.

All officers have now been retrained on the improved AIs and have demonstrated noticeable improvements in competency – both through tests conducted as part of their refresher training, but also through announced and unannounced spot checks.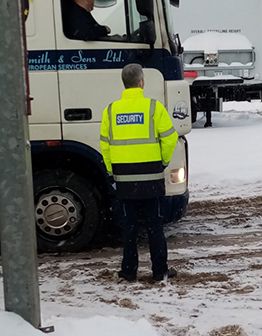 We also introduced our 'incident reporting' app, allowing officers to report incidents in real time and upload pictures that bring the incident to life.

A Smartphone is now issued to each location, preloaded with our Incident app, which is a vital part of an officer's toolkit.

All Arrow XL's stakeholder team are informed of any incidents as soon as they occur. Since the launch of the app, the quality of incident reports has improved exponentially and has assisted the team to identify and track trends – for example, around criminal activity.

Following the submission of an incident report regarding a suspicious vehicle, an attempted break in was able to be prevented, as all Kingdom operatives had been briefed on a potential threat and recognised the number plate in question.

The Kingdom team as whole received the below praise from Arrow XL's Head of Risk, Chris Purcell:

"Kingdom Services Group partnered with Arrow XL to supply static guarding across our UK network in December 2018.

During this time Kingdom have overseen a decisive and positive change in service delivery that has surpassed expectations.

They have demonstrated the commitment they initially made to Arrow XL by recommending and supporting the introduction of forward-thinking, innovative technology that has not only benefited the business by making workstreams evident but also aided the officers in carrying out their duties which has definitely facilitated a more efficient working dynamic.

Kingdom's approach to having their personnel provided with the correct information and tools to ensure they are executing their duties professionally and as best as they can be and are exemplary.

There are not many companies that take this much time and attention in ensuring their employees are prepared to operate in different environments.

Although there have been challenges at times, Kingdom's management team are approachable, caring and are always available. Having this reliability is a major factor on the success of any security team."
If you're interested in finding out how we can support you and your business with our single security service offering, get in touch today by clicking the button below.