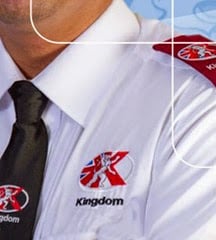 We recently reported that Kingdom has had their contract extended to continue providing security services to Cromarty Firth Port (CFPA) in Invergordon, Scotland, for at least another three years.
Kingdom operates the port radio services and provides the port with a total manned security solution. They are responsible for the complex coordination of all ship and vessel movements within the Invergordon port.
Kingdom's role ranges from cruise liner docking and departure security for both international and UK ships, through to the security solution management of oil rigs and support vessels. Kingdom also provide weighbridge and gatehouse security. Within the cruise season, Kingdom's security officers will manage and coordinate the arrival and departures of over 77,000 passengers and deal with over 2,844,544 tonnes of cruise liners.
Kingdom prides itself on having one of the most loyal, well trained and thoroughly professional workforces in the industry, and so was delighted to receive this email, with the title "Positive feedback" on the 28th May:
On Monday 19th May 14, I visited the Ruby Princess along with my wife and daughter. The reason for the visit was to meet up with our son who is employed onboard and who we haven't seen for 4 months.
We approached the port security staff who were manning the barrier to the walkway to the ship. They asked for our details and our names didn't appear on their list so correctly, wouldn't let us through. My son explained that he had completed the relevant paperwork and the ships own security had our details. The port security contacted the ships security to confirm that they had our details and were expecting us etc. Once confirmed that all was above board, they let us through. They apologised on several occasions for the delay and inconvenience etc.
It's very easy for people to complain of a bad service, however on this occasion I would like to thank the staff for doing their job proficiently and the security systems that you have in place obviously work which is reassuring.
I thanked your staff on the day and told them it was good to see that the systems that are in place work but I would also like to inform the management of a job well done by your security staff.
Keep up the good work.
Kingdom has over 20 years of experience in the security industry and is the UK's largest privately owned security company. It has a dedicated transportation team that has extensive experience and an in-depth understanding of this fast moving sector. For more information about Kingdom's transport security services, click here to visit their web page, or here to view their online brochure.