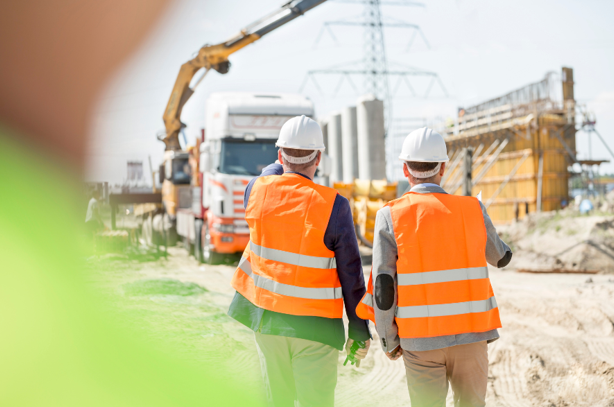 Temporary CCTV systems play an important role in protecting people and property on construction sites, where the risk of accidents or crime is elevated.
The continuous movement of heavy or large building materials, for example, poses a significant risk to workers and site visitors, particularly if agreed health and safety procedures are overlooked. Crime, too, poses a constant threat to construction companies' financial stability: £800m of losses occur annually because of vandalism, theft, and arson, with criminals tempted by expensive equipment and unfinished buildings.
So, what benefits can building site temporary CCTV offer your construction business?
1) Deter crime from being committed.
Construction sites are vulnerable to opportunistic crime as they are often unmanned during weekends and overnight. Temporary construction site security is significantly strengthened by CCTV cameras, which can be rapidly deployed with minimal set-up. Backed by visible warning signs, CCTV cameras discourage criminals from targeting your construction site and, should an attempt be made to steal property or cause damage, police will have access to valuable evidence.
2) Protect your assets and machinery.
Construction equipment is expensive, but the cost of theft and vandalism isn't limited to the value of machinery. If equipment is unexpectedly unavailable, operations are disrupted until replacements can be obtained, threatening completion dates. CCTV protects important assets by deterring criminals, particularly if cameras are deployed to monitor the equipment. Knowing their every move is being watched, criminals are less likely to attempt to steal equipment, while security staff can identify threats at an early stage and alert the police to a crime in progress.
3) Reduce your guarding costs.
In the past, construction sites were often protected by security staff who would conduct routine sweeps of the area or monitor CCTV in between conducting their other responsibilities. This led to weaknesses in the site's security net which criminals could take advantage of. Modern temporary CCTV systems, equipped with special features, such as infrared capability, provide a comprehensive view of a construction site and, because they are easily installed with minimal cabling, it is possible to ensure that the most vulnerable spots are covered. Highly cost-efficient, CCTV allows site managers to reduce their guarding costs without compromising on security.
4) Reinforce your health and safety procedures.
Despite robust health and safety measures, accidents still happen on construction sites, leading to approximately 40 deaths and over 61,000 injuries every year in the UK. When an accident happens, learning lessons is vital to ensure preventative action is taken to avoid a repeat incident. High-quality CCTV images allow site managers to review the events leading to an accident, so that weaker procedures can be identified, reviewed, and changed. Without CCTV footage, an accident investigation would rely purely on personal accounts of staff involved who may have an unclear recollection of the incident or, if shortcuts in safety measures were taken, may be economical with the truth.
5) Deliver better insights in employees' actions.

Finally, temporary CCTV provides a useful insight into the actions of workers on the building site and allows managers to monitor productivity, punctuality, and attendance at any time of day. With deadlines in the industry often tight and prone to disruption due to severe weather, maximising the team's productivity is vital, while potential problems in work practices can also be
identified and rectified.
Contact Kingdom today for more information
At Kingdom, we provide world-class temporary CCTV solutions for construction sites, strengthening their security and reducing the risk of serious accidents. For more information, please call our team on +44 845 051 7700 or send us a message.
Image Source: Canva