Retail stores bring in masses of people every day. With so many crowds of people visiting, keeping customers and staff safe is so important, especially in the current climate. One way to keep stores protected is by having Security Officers on site, to protect the store and give total peace of mind.
Our latest poll on our LinkedIn profile found that 79% of people feel safer with Security Officers on site over CCTV or other security solutions. Not only do they watch out for vandals and shoplifters, but they also help prevent crime, before it has the chance to happen.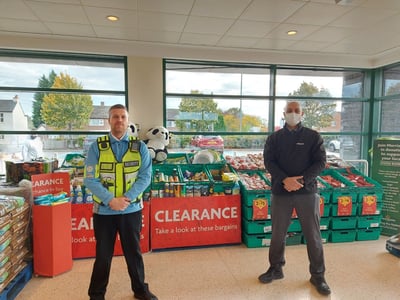 In this blog, we discuss five of the major benefits of having Security Officers working at your retail store.
Visual Presence
Having a uniformed security presence by a manned Security Officer is an effective way of sending out a firm message to potential criminals and acting as a visual deterrent. This is a way of letting them know that the store is protected and monitored and ensures they think twice before attempting anything untoward.
Not only that, but Security Officers also ensure a feeling of safety for both customers and staff, making the overall customer experience more positive.
Improved Security
Shoplifting is not the only criminal activity that can occur at retail stores. Security Officers are highly skilled in noticing any potential threats and/or suspicious activity, whilst being able to de-escalate tense situations, respond to emergencies, control crowds and generally making sure everything is always running smooth. Retail Officers are specifically trained to deal with this environment, making them specialists in a shopping environment.
Peace of Mind
Not only do Security Officers help make your store a safer place, but they also give you complete confidence that they will handle security situations appropriately and effectively. Additionally, a vigilant Officer may notice when a dishonest member of staff attempts to steal items from the store.
Seeing a well-presented, professional Officer also ensures customers feel safer and more comfortable when visiting the store, improving overall customer satisfaction, and boosting confidence.
Immediate Response
One of the most significant advantages to having Security Officers at a premise is that they are constantly on hand to respond to security issues straight away.
Should a theft or any other criminal activity take place, Security Officers are able to jump into action immediately.
If visitors were creating chaos in store, it could take the Police a while to arrive and control the situation, and they only usually do so for losses above a certain amount. By this time, the criminal could have done some serious damage. So, having a Security Officers presence could help avoid those situations, and issues can be solved there and then. In-store loss prevention is heightened and provides a deterrent for repeat offenders if they know a store is well protected.
Officers are trained to maintain a level head in high pressure situations and remove criminals from the store instantly before they can conduct any sort of crime.
Promoting Good Customer Service
Security Officers can often be the first impression a customer has of a retail store. Great Officers have excellent communication skills and are friendly, polite, and professional. When a customer needs assistance, one of the first members of staff in store that they may encounter is a Security Officer. They need to be brand ambassadors, creating positive customer experiences whilst maintaining an heir of authority which is a skill in itself!
At Kingdom Security, all of our Security Officers are given the opportunity of taking Skill Centre's Customer Service Level 2 training course. This helps them improve their communication skills, develop relationships, and make connections. Delivering a high-quality service is an important goal for any business, so having these necessary skills will benefit the customer experience greatly.
As a leading UK provider of security services, Kingdom Security offers a wide range of solutions, each tailored to meet even the most extensive needs. To find out more, contact our Head of Sales, Sherrelle Blackwell, or simply call 0330 022 9422.