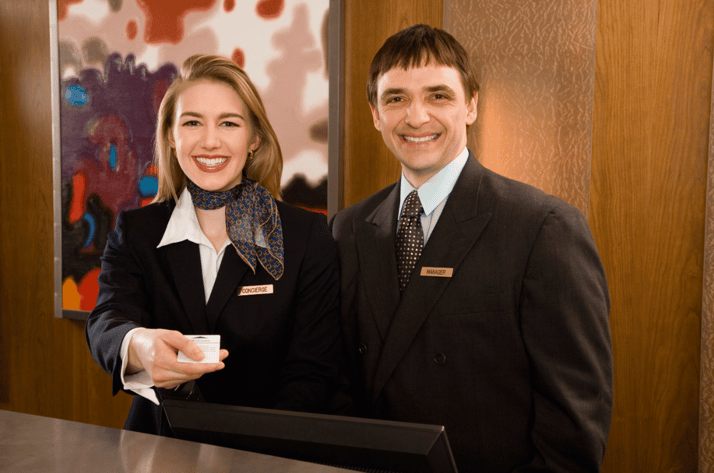 In many sectors, such as hospitality and leisure, first impressions matter. Guests expect to receive a personalised service that makes them feel welcome and valued, and they are more likely to become loyal customers if this is provided with a high degree of attention and assistance. Once the preserve of high-end London hotels, concierge services are now becoming more common across the UK as businesses learn about the benefits.
When reviewing your establishment's security arrangements, it's well-worth considering how a concierge could enhance both the guest experience and your business's reputation.
What Is A Concierge Service?
A concierge is a customer service and security professional who is the first point of contact between guests and an establishment, such as a hotel. They provide a personalised service to customers from the moment they arrive and take responsibility for different aspects of the guests' stay, including:
Restaurant reservations

Taxi and transport booking

Answering enquiries

Receiving phone calls and passing on messages

Arranging for laundry or dry-cleaning

Providing local information and booking excursions and tickets
The Benefits Of Personal Concierge Services From Kingdom:
An Improved Guest Experience
When guests expect and receive a memorable experience, a positive relationship evolves that is based on trust and loyalty. However, when a guest's expectations are not met, they will often take their business elsewhere next time, and you may receive negative reviews on social media. A concierge is a vital component of guest relations as their personalised service makes the customer feel they are being looked after, and satisfaction levels will soar. In a world in which online reviews help to determine whether a hotel will achieve maximum occupancy, it's important to take every step to ensure that guests leave happy at the end of their stay.
Increased Revenue
Concierges are experts in delivering world-class customer service. Matched to your company's ethos, brand, and culture, concierges understand what your guests anticipate from your establishment and work tirelessly to exceed their expectations. By meeting your guests' every need, a concierge will fortify your brand's reputation, encourage customer loyalty, and promote word-of-mouth recommendations that result in increased bookings and revenue.
Better Efficiency
Concierges handle a variety of tasks, from restaurant or theatre reservations to transport bookings, and act as the first port of call for guests. Because they are experts in their field, they can carry out their responsibilities seamlessly, freeing other staff, such as the front of house team, to focus on profitable activities, such as securing sales. Concierges also have an eye on guest safety and can liaise with in-house security teams as soon as a threat or danger is identified.
Rapid Problem-solving
Hotel guests can be incredibly discerning and expect that problems will be quickly resolved to their satisfaction. An experienced concierge can make logical decisions to resolve issues as soon as they are reported and utilise their exceptional people skills to diffuse confrontations or soothe angry customers. With complaints handled swiftly, guests are less likely to leave negative reviews of your establishment and more likely to return in future.
Contact Us To Find Out More
At Kingdom, our concierge service will create a positive first impression that your guests are sure to remember. To find out more, please click here to get in touch or call our friendly team on 0330 022 9422.
Image Source: Canva