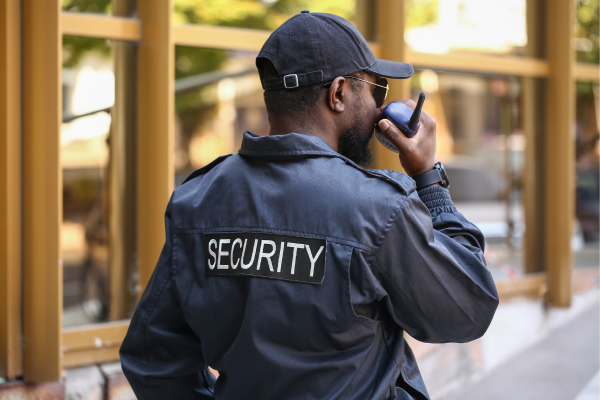 For business owners, crime is one of the most pressing concerns that they face on a daily basis. Even if their business has not been targeted, the threat of crime is persistent: with over 606,000 crimes against businesses each year – an equivalent of 69 per hour - companies of all types and sizes face a clear and present danger that, if left unchecked, could result in financial ruin.
Most business owners recognise the value of technological deterrents, such as intruder alarms and CCTV systems. On-site security personnel will strengthen your business's safeguards and offer important advantages to protect your people and property.
A Visible Security Presence
Whereas intruder alarms and CCTV cameras are usually small and often positioned in places that are difficult to see, especially from a distance, a security guard is a highly visible deterrent to potential offenders. Few criminals would attempt to carry out an attack on a business in the knowledge that experienced and trained security staff are only yards away, increasing the chance of their crimes being detected and therefore being apprehended on the spot.
A Rapid Response
Many criminals target businesses at times of the day when the police will not be immediately informed, such as overnight or during out-of-office hours. Even a short delay in summoning help allows perpetrators to escape from the scene, whereas on-site security staff will be able to respond instantly when a crime occurs. Trained to detect suspicious behaviour, security guards can react quickly, alerting law enforcement and detaining suspects until the police arrive.
Secure Access Control
If a business's premises is protected by access control measures, security staff can assume responsibility of these to screen visitors and prevent unauthorised site access. Visitors' identities can be verified, and vehicles checked so that any repeated attempts to gain unauthorised access will be identified more quickly.
Surveillance And Monitoring
Security personnel are trained to identify suspicious activity and to quickly evaluate whether there is a threat to the safety of a business, workforce, or customers. If unusual behaviour is spotted – a vehicle driving past the premises repeatedly or a visitor acting suspiciously, for instance – immediate action can be taken to establish if a risk exists and to manage it safely.
Proactive Risk Assessments
Security staff can undertake comprehensive risk assessments on the entire property or in designated areas to identify potential vulnerabilities that could expose the business to criminal activity. For example, a check of perimeter fencing could reveal deliberate damage that thieves intend to use overnight to gain access to the site. As soon as problems are detected, swift remedial action can be taken to minimise the threat.
Contact Kingdom Security Today
At Kingdom, we provide highly trained, trustworthy, and vetted security personnel who will strengthen your business's security, increase your criminal deterrence, and ensure prompt action should an incident occur.
To find out more, please call Kingdom Security on 0330 022 9422 or send us a message.
Image Source: Canva