The news is awash with stories about the United Nation's 'Race to Zero' campaign to help ensure a zero carbon recovery, preventing future threats to our planet.

And with one in three of the UK's largest businesses leading the way by committing to align with government targets on carbon emissions, there is unprecedented demand for partners and suppliers to address these ambitions.

Green Cleaning

We hear a lot in the industry about green cleaning and what that might mean for cleaning and hygiene partners. But, if we're not careful, the term could quite quickly be reduced to another meaningless buzzword phrase.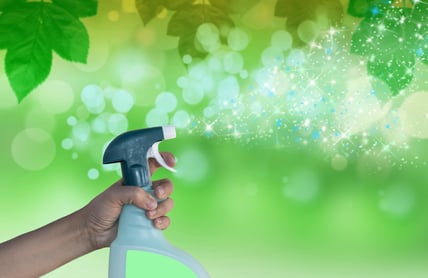 It's easy to talk the talk, but businesses need to take tangible action when it comes to their sustainability commitments.

A more holistic approach

It's no use making a series of pledges or commitments and thinking that's enough. We need to consider the entire supply chain when we commit to sustainability, from the products we choose , to the way they are manufactured, distributed and used in practice. We should also look at our own operations to ensure our own practices and people management are ethical and considerate.

When it comes to our products, we work closely with our suppliers to limit the amount of chemicals that we use in our processes. We have also introduced our measure, reduce and offset approach to carbon management. And our 'no impact' ethos ensures we focus on further reducing carbon emissions.

Collaborating with our sustainable solutions partner, Ethical Nation Ltd, we minimise running costs and increase our positive environmental profile. As a result, we have created and implemented a fully carbon neutral cleaning service at all our client locations.

The C2Zero way

Our fully carbon neutral cleaning system, C2Zero – for which we have received a neutralcarbonzoneTM accreditation – calculates the precise carbon impact of every aspect of our service.

It's part of our standard package to customers, ensuring that all our operations are sustainable. By understanding and measuring in this way, we can offset the impact of our operations and return them to a carbon neutral position.

Toucan Eco – an innovation in cleaning

We have also recently begun rolling out our new 100% natural cleaning system, Toucan Eco, across client sites. It's a salt solution which is electrolysed by a small electrical current. The process recombines naturally occurring elements to create an effective disinfectant and cleaning agent.

Safe and hypoallergenic, there's no need for gloves and it's harmless to the environment. Killing 99.99% of viruses and bacteria, it can be used on any surface, including glass and fabrics.

This provides our teams with an eco-friendly cleaning solution that's virtually free to make. And as it's refillable, it eradicates waste, so no more single-use plastic pollution.

A greener future

Today, eco-conscious customers are increasingly demanding 'green' partners. If we are to support our clients in their eco-ambitions, we not only need to have the products and services in place, but engrain sustainability in our very ethos – something that we strive to do at Kingdom Cleaning.

Find out more about our commitment to sustainability here.