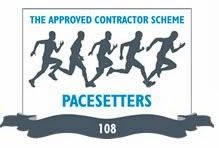 Kingdom is a member of Pacesetters – the Approved Contractor Scheme (ACS).
Members of ACS Pacesetters are the top 15% of contract security guarding companies according to the benchmarking and achievement levels set by the Security Industry Authority (SIA) Approved Contractor Scheme.
This figure restricts membership of the scheme to only 113 companies.
In order to achieve ACS accreditation, security guarding companies need to achieve a score of at least zero, with the current maximum score being +174 points. Currently, 753 security guard companies have ACS accreditation, making it very difficult for potential buyers of security services to choose between them.
Pacesetters therefore aims to split the field of security companies. It acts to separate the "best in the class", both regionally and nationally.
All members of Pacesetters have achieved a score of at least +108 during their most recent annual inspection. You therefore know that when you choose a contract security guarding company that has membership of ACS Pacesetters that you are choosing one of the best security guard companies in your area and in the country.
For more information about ACS Pacesetters, please visit their website.