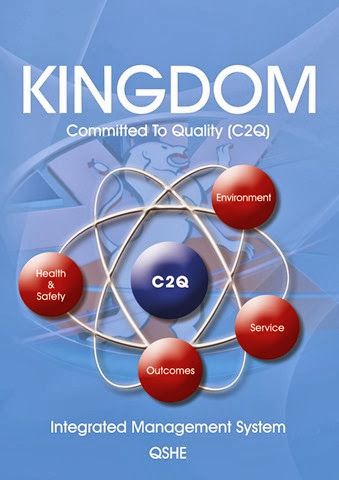 Kingdom remains steadfast in its "commitment to quality" (C2Q) by embracing five key components: Safety, Health, Environment, Service and Outcomes.
As a supplier to brand focused customers, our investment and dedication to quality and safety is taken extremely seriously. We regularly access experts in their field to challenge us, and when we do it well recognition follows.
Quality
Kingdom holds SIA Approved Contractor Status (ACS) for the provision of Security Guarding, Key Holding, Door Supervision and Public Space CCTV. The Security Industry Authority (SIA) is the organisation responsible for regulating the private security industry, and the Approved Contractor Scheme (ACS) was introduced to form a set of operational and performance standards for companies.
Kingdom operate a mature, UKAS accredited Quality Assurance System incorporating British Security Industry Operating Standards, and our management team continuously strives to exceed the requirements of ISO 9001 & BS 7499. Our performance is audited against the strictest known industry standards and all KS centres are subject to twice yearly audits for non-compliance against the following accreditations that we hold.
We have Investors in People Status. Our people are our primary asset so we empower our people to do the best job they can.
Industry Recognition
Kingdom is a member of the Approved Contract Scheme Pacesetters scheme. Membership is made up of Contract Security Guarding Companies who are in the top 15% benchmarking and achievement levels set by the Security Industry Authority Approved Contractor Scheme.
We are an Infologue Top 20 Security Company – this mirrors the regulated private security sector based on turnover.
We are also part of Accelerate 250 - Britain's fastest growing companies, personally selected by Lord Young and Sir Terry Leahy. The ACCELERATE 250 represent Britain's 'vital 6%', the minority of firms who have unlocked the secret to growth and are creating half of all new jobs in the UK economy.
Finally, we are part of Investec HOT 100, which showcases the UK's fastest-growing private companies.
Safety
Our service presents certain risk to people and to the environment. Recognising these risks are inherent in our business and we believe the best way to meet our commitments is through as capable committed workforce and practices designed to provide a safe and sustainable service at the highest level.
We are a ContractorPlus Approved Contractor, and vetted to ensure our health and safety standards are of the highest quality.
We are an approved SAFEcontractor. They assess the Health & Safety competency of contractors and service providers.
We are a CHAS Accredited Contractor - the buyer's health and safety standards.
Environmental
We follow ISO14001 - a family of standards related to environmental management that exists to help companies (a) minimize how their operations (processes etc.) negatively affect the environment (i.e. cause adverse changes to air, water, or land); (b) comply with applicable laws, regulations, and other environmentally oriented requirements, and (c) continually improve in the above.