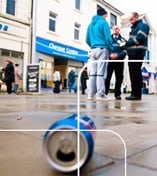 Kingdom has launched a new Environmental Protection area on its website highlighting the organisation's work for Local Authorities across the UK.
These changes come as part of a continuing rebrand of Kingdom's website which will now offer a more detailed look at the issues surrounding environmental protection.
A wide range of information can be found on environmental enforcement and the prevention of anti-social behaviour. Visitors to the page can also view a number of strong testimonials provided by local authorities.
In addition, the section is supported by an informative video and a digital flip-book brochure which gives customers a further look at environmental protection services.