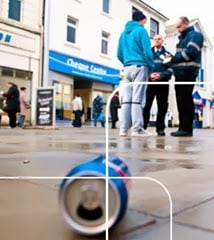 Knowsley Council has published a press release announcing that 4,000 fixed penalty notices have been issued in a crackdown on littering and dog fouling in the borough.
Kingdom has been working with Knowsley Council over the last 15 months, with our environmental protection officers patrolling the borough and helping to keep it clean. In what Knowsley Council described as "a tough crackdown on environmental crimes", our officers have been issuing £75 fines to people caught littering or failing to clean up after their dogs.
The work Kingdom do was praised by Knowsley Council's Cabinet Member for Corporate and Customer Services, Cllr Andy Moorhead, who said: "Issuing this number of fixed penalty notices demonstrates our commitment to keeping the borough clean and tidy for the benefit of our residents.
"We have taken a tough stance on people who show no consideration for others when they drop litter or fail to clean up after their dogs.
"We have received a great deal of support from residents in this crackdown because we know that littering and dog fouling had been a real concern to them. We have also been contacted by other local authorities who want to follow our lead on this issue.
"I believe we are starting to see positive changes in people's behaviour. That, in turn, will help us to keep the borough cleaner and reduce the £1.9m we currently spend cleaning our streets each year."
The press release was the basis for an article in the Liverpool Echo.
Kingdom works with local authorities around the UK to deliver environmental protection, making our streets cleaner, safer and greener. Our services include tackling street litter, dog fouling, commercial and residential waste, smoking in prohibited areas, illegal distribution of free material, criminal damage, graffiti and fly-tipping.
Our specialist teams are led by experts with an ex-police and military background, and deliver over 130,000 environmental protection hours per annum on behalf of local authorities. To learn more about Kingdom's environmental protection services, please click here to visit our website. We also have an online environmental protection brochure, which can be viewed here.