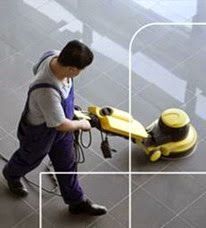 We recently reported that Kingdom Clean have started providing cleaning and support services to the brand new Old Market Shopping Centre in Hereford, which is the first major retail development in Hereford for 25 years.
The centre will deliver 18 big name retail brands, eight restaurants and a six-screen Odeon cinema, with the first stores having opened for business on 1st May.
The £90million shopping centre initially had its original opening delayed until 9th May due to exceptional weather hampering building works. However, the opening was then brought forward to the 1st May. This caused Kingdom Clean some difficulty in terms of staff recruitment and the mobilising of pre-clean teams, but with meticulous planning and by working closely with the shopping centre's management, Kingdom Clean was able to have the Old Market Shopping Centre prepared and ready for its first day of trading.
Following this, the Head of the Shopping Centre Management team for Meadowhall, Sheffield Ealing Broadway and Old Market Hereford at Smith Young, Richard Nield, has written to the Director of Kingdom Clean, Barrie Richards, to praise the work of the Kingdom Clean team at the shopping centre, saying:
As you know we awarded the contract for cleaning services to Kingdom/Dougland earlier this year and the Centre opened its doors on 1st May. In these times when clients etc are seemingly too quick to escalate criticism I thought that I would balance the books and drop you a line in praise of your team, and in particular Peter Simpson.
There were a number of challenges placed before us with the opening of Old Market, not least the fact that PC wasn't afforded until 6:30pm on the evening before opening. We were praised by the developer and our client (British Land) for our 'Can Do' attitude which enabled the centre to open on time. At the end of the day it really was a team effort and without the dedication of Peter and his team we really would not have been able to deliver to the extent that we did. To witness a senior manager on his hands and knees scrubbing the stairs was truly a sight to behold, but indicative of Peter's character and dedication.
I was pleased that we were able to offer the contract to Dougland as we have nurtured an excellent relationship at Ealing Broadway. My faith in appointing Peter and his team has been more than justified. I have thanked Peter personally but I thought that I would share this with you.
We look forward to what I'm sure will be a long working relationship with you.
Kingdom Clean provide supervisor or site-managed commercial cleaning and maintenance services for leisure, transport, public and commercial circulation. Kingdom are committed to using the best people, technologies and products to provide a leaner, smarter and more connected organisation to enhance companies performance, providing results which they can measure and control.
For more information about Kingdom's site managed commercial cleaning and maintenance services, please visit http://www.kingdom.co.uk/services/commercial-cleaning/ or go to http://www.kingdom.co.uk/Brochure/CommercialCleaning/index.html to view Kingdom's Site Managed Commercial Cleaning & Maintenance Services online brochure.