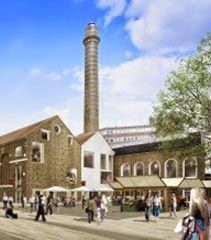 Kingdom is delighted to be continuing to provide security services to the well known and historic Ram Brewery in Wandsworth.
The Ram Brewery had previously been owned by Minerva, but was taken over by Chinese property developer Greenland Holdings Group in June.
Kingdom has been providing security services to the Ram Brewery for many years, and is delighted following the change of ownership to be continuing this relationship.
The Ram Brewery has been a familiar local landmark for both Wandsworth residents and visitors for over 150 years, since it opened in 1831. It is Britain's oldest brewery, with beer having been brewed on the site from the 16th century.
Plans were approved in 2013 to redevelop the brewery into shops, housing, cafes, bars and restaurants, as well as a brewing museum and microbrewer. For more information about the Ram Brewery, please click here to visit their website.
Kingdom specialises in risk, loss and the protection of property, people and brand. Established in 1993 to influence and inspire the security marketplace, they have over 20 years industry experience and are now one of the largest privately owned security companies in the UK. For more information about Kingdom's security services, please click here to visit their website.