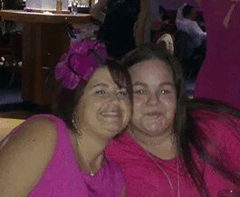 Kingdom's Sales Team Manager Jenny Baron has spent the last month taking part in "Choctober 2014" in order to raise money for the National Kidney Federation (NKF). Jenny gave up both chocolate and alcohol throughout October, and has now completed the challenge.
So far, Jenny has raised £125 for the National Kidney Federation, and is extremely grateful for all of the report and donations she has received to date. She would very much like to raise £500 for this fantastic charity and would really appreciate any help to achieve that goal. It's not too late if you would still like to donate – just go to her Just Giving page - http://www.justgiving.com/owner-email/pleasesponsor/Jenny-Baron-Choctober2014 - and click "donate". JustGiving sends your donation straight to the National Kidney Federation so it's a simple, quick and secure way to donate.
Jenny took part in the fundraising exercise for the NKF because her friend Lisa (pictured with Jenny) has kidney failure and is currently awaiting a kidney transplant, so this is a cause very close to Jenny's heart.
Before starting the challenge, Jenny said: "My brave, strong, beautiful friend Lisa has to go through dialysis daily, as well as surviving and fighting her way through a triple heart bypass and many other illnesses. Lisa is a fighter – she is so strong and never lets it get her down or stop her. She is the heart and soul of the party and is always there for everyone. She is a ray of sunshine and is truly inspirational."
The National Kidney Federation is the largest kidney patient charity in the UK, and is the only national kidney charity run by kidney patients for the benefit of kidney patients. It is committed to improving the health and quality of life of people living with kidney disease and those at risk. For more information about what they do, please visit http://www.kidney.org.uk/.