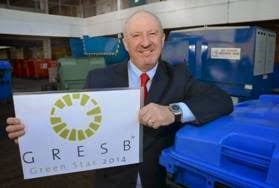 One of Kingdom Clean's clients, Bournemouth's Castlepoint Shopping Park, has been awarded a prestigious sustainability award, and has praised Kingdom Clean for their role in helping them to achieve it.
Castlepoint Limited Partnership, who own Bournemouth's Castlepoint Shopping Park, is one of nine Standard Life Investments Funds to gain a Green Star ranking from the 2014 Global Real Estate Sustainability Benchmark (GRESB) Survey.
Bill Riddle (pictured with the Green Star logo and a new £32,000 recycling baler), Operations Manager at Castlepoint, said they were delighted to have gained the Green Star status. "We are pleased to receive this international recognition for our implementation of the sustainability initiatives and in particular our ongoing energy saving and recycling programme. This award could not have been achieved without the continued support of our Cleaning and Waste Management Contractor Kingdom Clean. With special thanks to Mark Day, Operations Director, Sean Page, Site Manager and Sharon Williamson, Executive Account Manager. It has been a tremendous result for a conscientious team effort."
Castlepoint Shopping Park is a unique retail experience. Located on the edge of Bournemouth (A3060), Castlepoint is the largest shopping park in the UK and has many of the biggest stores in the region. In addition to B&Q and three large anchors, Sainsbury's, Marks & Spencer and Asda, they are home to dozens of large High Street brands such as Next, Gap, H & M, New Look and much more, as well as restaurants and cafes. They have over 3000 free car-park spaces with late night trading throughout weekdays until 8.00pm making Castlepoint a wonderful place to do all your shopping in one convenient location.
Kingdom deliver supervisor or site-managed commercial cleaning and maintenance services. They are committed to using the best people, technologies and products to provide a leaner, smarter and more connected organisation. They also advise on ways to cut cost, what tasks can be reduced, what time of day is cheaper or how to reduce electricity consumption or CO2 emissions when cleaning.
For more information about some of the environmentally friendly cleaning innovations Kingdom uses, please go to http://www.kingdom.co.uk/articles/environmentally-friendly-commercial-cleaning.aspx. To find out more about Kingdom Clean, please visit http://www.kingdom.co.uk/services/commercial-cleaning/