Renowned as Bedford's premier shopping centre, the Harpur Centre is home to more than 30 retail stores situated over 2 levels. Visitors to the centre can get all the retail therapy they need, under one roof, with a great selection of major brands to choose from such as Boots, Starbucks, WH Smiths, Specsavers and Pandora.
As proud partners of the Harpur Centre, we support them with a range of integrated security and cleaning solutions that have been tailored to their needs. Included in the package is manned guarding, our very own guard watch patrol system, and our visitor management system to maintain the overall safety and security of the staff, visitors and the premises. This works in conjunction with our specialised and professional cleaning solutions, ensuring the highest standards of cleanliness inside the shopping centre.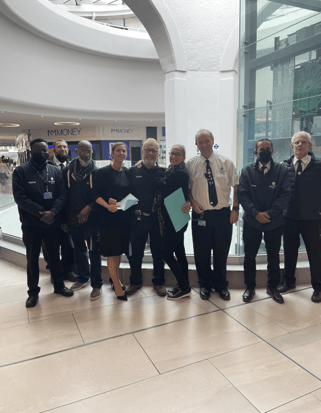 Previously, the Harpur Centre was facing challenges to recruit dual-licensed Security Officers, as they needed to be able to operate the CCTV control room, as well as conducting other various day-to-day security duties on site.

Kingdom resolved this issue by increasing the pay rates to support the local rates within the area, whilst also recruiting DS licensed Security Officers and placing them on to CCTV training courses. This meant our Security Officers were trained to the highest standards to support our client, whilst enhancing their own knowledge and experience and gaining further industry qualifications.

The site is managed entirely by our Site Security Manager, which allows flexibility as our on-site Security Officers regularly conduct cleaning shifts when necessary, whilst also giving the client a single point of contact.

Since working with Kingdom, service level agreement (SLA) scores have reached a fantastic 98% for over 6 months, along with a number of commendations issued to our officers for their continued hard work and dedication to their roles, including team of the month.

If you are interested in finding out how we can support you and your business with our integrated service solutions, click the button below to get in touch with a member of our team, who are on hand to discuss your requirements.