Founded in 1825, in Street Somerset, Clarks is a large British international shoe and footwear manufacturer and retailer. The area is still home to the group's headquarters. Kingdom Cleaning are proud to work with our partner, providing our integrated cleaning and security solution to the site covering 10 buildings, which includes a provision for manned guarding.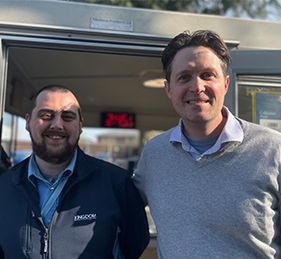 Located in Glastonbury, an international tourist destination, renowned for its arts and culture, the area is extremely popular during the summer months. During this time the site experiences a significant increase in visitor footfall to the retail's store onsite. The result is the introduction of additional cleaning and security measures to ensure the site continues to remain safe, secure and hygienic for staff and visitors all year round.
During the pandemic, several departments across the site had to close, but all 10 buildings remained open. A number of staff were furloughed which led to a logistical challenge, in terms of ensuring all of the buildings remained clean and ready for use, whilst reducing working hours on site.
Additionally due to all of the buildings remaining open, we needed to ensure our high level of service was consistently maintained.
To achieve this, we revised and updated our cleaning processes, by ensuring that staff onsite were responsible for every building and had the autonomy and flexibility to use their own judgment regarding which particular areas needed to be cleaned.
This meant that they were able to focus on the key areas on site that required cleaning, rather than carrying out cleans of unused areas, where cleaning was not a priority.

This protocol was introduced following our "Check & Act" process, which instructs a trained Cleaning Operative to review an area or room before entering and determine which cleaning tasks are required. Not only does this save time and resources, but it allows our operatives to focus on conducting cleaning tasks where they are needed most.
By updating our processes, we were able to utilise the skills and expertise of the on site team to the best of their ability and achieve maximum efficiency.
We are pleased to say that since the beginning of our partnership with our valued partner, we have consistently achieved an average Service Level Agreement (SLA) score of 90%, based upon our quality audits and service evaluation reports, and we are looking to continue our relationship for many years to come.