Kingdom Cleaning colleagues and partners have joined forces to plant 150 trees in a new community woodland in Bedford, as the firm continues to champion 'professional cleaning with a conscience'.

Organised by Kingdom Cleaning's Operations Director, Shaun Wall, and the firm's sustainability partner, Ethical Nation, the event saw colleagues from Kingdom Services Group and its janitorial supply partner, Bunzl, come together to contribute to the ongoing planting programme at Queens Wood near Houghton House.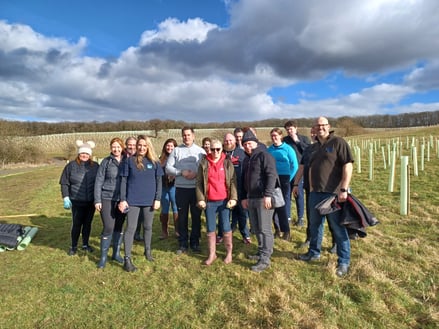 The community woodland on the Ampthill and Houghton Conquest border has been planted with more than 35,000 native trees and shrubs in the past two years led by teams from Forest of Marston Vale Trust and the Woodland Trust. Kingdom Cleaning's contribution will complete the planting of this new 38-hectare woodland.

As part of Kingdom Cleaning's ongoing environmental, social and governance (ESG) commitments, the firm has also made a donation towards the ongoing management of the woodland to ensure it thrives and creates the greatest biodiverse impact.

Shaun Wall, Operations Director at Kingdom Cleaning, said: "At Kingdom Cleaning we are driven by our social and environmental ambitions. We constantly strive to positively contribute to our community, which is why we were delighted to join forces with our client Bunzl for this inspiring team event. Not only will the trees planted by our colleagues help to complete this new woodland, but they will also create a new habitat for the wildlife it serves. We hope the local community will enjoy the space for many years to come."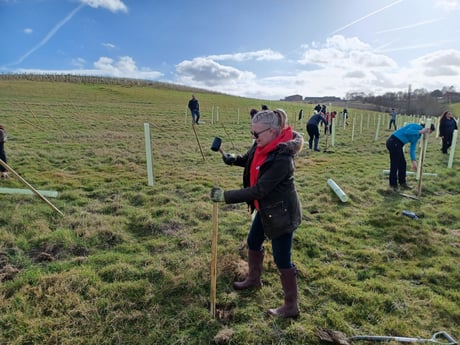 Freddie Forsyth, Director of National Accounts at Bunzl, said: "We are proud to be partnered with Kingdom Cleaning, helping to deliver their sustainability commitments. This is fantastic initiative that we delighted to be involved in. At Bunzl, sustainability is firmly embedded in our business, and we are continuously working to reduce our environmental impacts and support local communities through the work we do."

Alan Stenson from Neutral Carbon Zone said: "We were delighted to have the support of Kingdom and Bunzl. Planting 150 trees in this protected woodland will ensure a legacy of environmental, social and local economic benefit that will continue to deliver for many decades to come. The "Tree in a Million" campaign was created to provide our clients here in the UK with the ability to take actual physical action towards combating climate change and getting out into the fresh air with colleagues and friends to do just that is also a lot of fun too."