Hand sanitiser has always been readily available in larger businesses and healthcare facilities. Now, hand sanitiser stations have become much more prevalent, with the importance of hand sanitiser placement in the workplace only increasing as we attempt to kill and contain viral infections.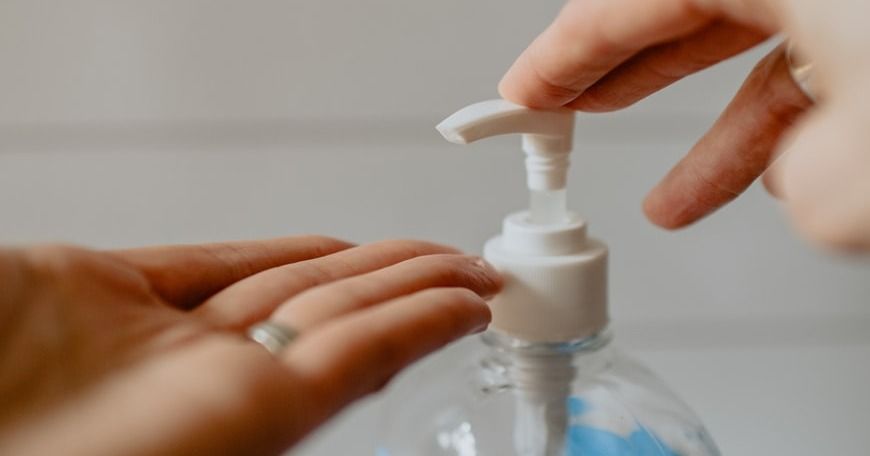 Every organisation should now slot sanitiser into their cleaning strategy, taking into account the physical product, its placement and its successful adoption. Here's how.
Sourcing the right sanitiser product
When purchasing sanitiser to use throughout your premises, you'll need to ensure the solution has an acceptable amount of alcohol content to make it medical-grade. Alcohol in sanitiser is what essentially makes it effective in killing germs and sanitising surfaces, as well as hands and other objects. Which? explains, in scientific terms, that high alcohol content sanitiser is effective because it works by "inactivating the virus by breaking down the lipid layer,' just like soap.
While 60% alcohol content is a baseline for combatting common germs, enveloped viruses such as coronavirus require a higher alcohol percentage at a minimum of 80%. For organisations in the UK, the Health and Safety Executive provides clear guidance on this.
As an organisation, you need to be confident in the product you choose before getting too caught up in how to roll it out across your environment. First and foremost, you'll need to select a sanitiser that's fit for purpose Yet, you may also want to consider the environmental implications of the product if this is something you're precious about in other areas. Environmental cleaning products display a keen commitment to socially responsible behaviour and hand sanitiser is no exception.
Strategic hand sanitiser placement
Sanitiser should be effective in its solution, but the placement should also prove efficient. For example, sanitisers shouldn't be placed in low traffic areas. Rather, sanitisers should be positioned at frequently used touchpoints to mitigate the spread of germs in places where there's most risk.
Sinks, doors, desks and communal areas are among the most visited places in offices and other facilities, so all should have a sanitiser stationed nearby and at the correct height to ensure correct and repeat adoption.
Hospitals are perhaps the best example of strategic hand sanitiser placement, encouraging visitors, patients and staff to sanitise their hands before touching doors, handles and other items. Research into health facilities shows that hand sanitiser usage is up to 5.28 times higher when the dispenser is clearly marked and not obstructed by anything else.
As all corporate spaces attempt to mirror clinical hygiene levels to keep their customers and staff safe, we should look to sectors like this to follow placement best practices.
Clear compassionate signage
As sanitiser use relies on the goodwill of visitors, staff and customers, signage is needed to encourage adoption and remind individuals of its importance.
Signage, along with sanitisers, should be positioned correctly, sitting alongside sanitiser stations but also in other areas where visitors might see it. For example, a front desk might benefit from clear signage to remind visitors to use the station by the front entrance.
In addition, signage should strike the right tone to remind individuals of their choice while gently enforcing policy. Using an image or even going so far as to create a step by step visualisation of correct usage can also increase uptake.
Communicate with cleaning teams
Lastly, sanitisers in the workplace need to be coordinated by cleaning teams. So, all cleaners should be aware of their responsibilities to manage stock levels, replenish stations and other cleaning duties connected to them. For example, more frequent cleaning of high traffic areas means there isn't so much relying on hand sanitiser, giving companies greater control over their environment.
Whether you work with an outsourced cleaning service or hire cleaners in house, you'll need to liaise with them on the best ways to manage sanitation points, including creating cleaning protocols that can be scaled across multiple sites.
The importance of hand sanitiser placement in the workplace is just one hygiene worry. To keep those in a corporate environment safe, cleaning teams need to consider other measures and ensure they're deploying cleaning techniques in a structured, strategic manner that can be replicated across many sites.
Look to an experienced cleaning team fit for enterprise businesses
Sometimes, outsourcing is the only answer.
Using a professional cleaning service like Kingdom Cleaning gives you the peace of mind that commercial cleaning, including the replenishment of vital supplies like sanitiser, can be covered no matter how many sites you have.
Our team of specialist cleaners are equipped to handle any commercial cleaning project and expand our capacity at short notice if you decide to expand or request additional cleaning services ahead of an event.
Contact us for more information.