Michael Fisher, Managing Director at Local Authority Support, explains how he got involved with supporting the City of Trees movement, while out on a stroll near his home.

My story around City of Trees and how I got involved...
One cold February morning last year, I was exercising my Sprocker Spaniel Bobby on some common land near my home on the outskirts of Wigan, when I read some signage on posts that had appeared that week which related to tree planting.
Obviously, this attracted my attention, as on a professional basis the company I lead on behalf of Kingdom Services Group Ltd have delivered Environmental Protection and Enforcement services on behalf of a wide range of Local Authorities throughout England and Wales for well over a decade.
On an equally important point, I have very strong feelings on protecting the environment with climate protection and any activity in support of reducing the carbon footprint and providing natural habitat for future diverse wildlife species is good for me!
I then went home and wrote to Sarah at City of Trees, the organisation behind the tree planting and asked her how I and by association Kingdom Local Authority Support (LAS) could help. Sarah explained to me the objectives of City of Trees in relation to the Tree planting in Urban and Semi-rural areas in Greater Manchester.
The City of Trees is a movement delivering a green recovery and tackling the climate emergency head on, through planting trees and restoring woodlands, for the people and wildlife of Greater Manchester.
The rest as they say is history and I signed off to sponsor City of Trees on behalf of LAS and play some small part in tackling the climate emergency head on.
So fast forward to today, Wednesday 30th March 2022 and I find myself in Bury with the guys from City of Trees with a spade in my hand and using a few muscles that have not been used for a while to plant the trees and let nature do its work. Today alone, 350-400 trees have been planted, which is a fantastic effort from all those involved.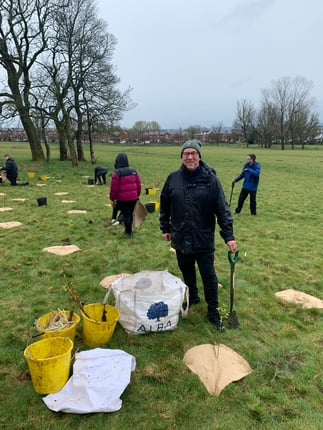 This won't be the last day of this kind and I am convinced that when voluntary organisations together with the community and business such as Kingdom putting their hands in their pockets and backs into the digging to add to the 537,173 trees already planted.
Well done City of Trees, and thank you for giving us the opportunity to take part in such a great initiative ,that involves looking after our environment for future generations.
So go out and spread the word, and get as many volunteers as you can involved in this wonderful initiative.
Find out more: https://lnkd.in/gRSxyFKd