Kingdom were selected to provide security and cleaning solutions for our valued partner, CessCon Decom, to support with decommissioning of oil rigs.
As well as providing professional cleaning solutions, we deployed an on-site Security Officer and mobile response team, an AI CCTV Tower, whilst supporting with access and egress and weighbridge operations.
CessCon Decom provide new and bespoke, cost effective, fit-for-purpose and environmentally responsible decommissioning services for their clients.
As proud partners of CessCon Decom, we were tasked with providing our expert security and cleaning solutions to support with decommissioning of oil rigs.
This includ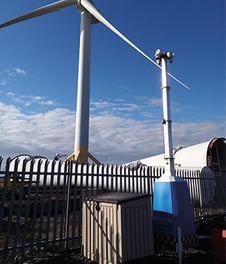 ed the provision of CCTV, whereby a site survey was conducted. An AI CCTV tower was recommended to CessCon, which was fully monitored and backed up by the on-site Security Officer and mobile response teams.
In addition to this, we managed access and egress to the site via a secure barrier and conducted regular patrols to ensure the facility remained ISPS compliant.
We were also responsible for weighbridge operations, ensuring the recording of data for HMRC, CessCon and various other parties.
Whilst this site was brand new, we were there from a very early stage working closely with the PFSO (Port Facility Security Officer) and Deputy PFSO, to support and advise on the best locations for security and gatehouse equipment to be installed.
We also deployed professional Cleaning Operatives, who ensured the highest level of cleanliness on site at all times.
However, we faced various challenges along the way that required us to come up with quick solutions.
The traffic management plan on site did not allow the ability to run a mains power cable to the strongest vantage point. So, we came up with the solution of installing a self-powered variant which quickly resolved the issue.
Another challenge we faced was that, despite the site being a decommissioning facility, this was still a location of interest for environmental protesters. To prepare for any planned protests, we worked closely with CessCon to conduct regular drills and exercises. In the event of a protest, both Kingdom and CessCon personnel were aware of the necessary actions that needed to be taken.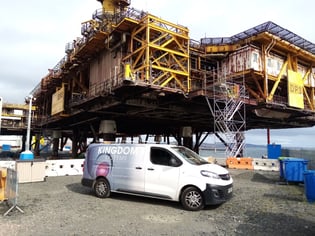 In the event of an emergency, our National Command Centre are accessible 24/7. We also have support from local mobile response supervisors who operate 24/7. We are responsible for holding quarterly security drills to test different areas of the port facility security plan.
If you're interested in finding out how we can support you and your business with our single security service offering, get in touch today by clicking the button below.