'Environmental pollution is an incurable disease. It can only be prevented.'

A sentiment that has never rang so true as we continue to emerge from 2 years of lockdown darkness to emerge into light of a brighter future, ready to get 'out and about' to enjoy this green and pleasant land…or is it?
The Covid pandemic restricted many aspects of our daily lives, the things we took for granted, so much so that, when appropriate, a brief escape to one of our many idyllic beauty spots, resulted in all manner of debris being left to rot, someone else's responsibility.
A lack of a social responsibility also resulted in a rise in fly, and 'sly' tipping of all manner of rubbish, so much so that the real impact is only just emerging, as we do back into the new norm.

During the pandemic, however, Kingdom Local Authority Support, (LAS) working with a number of councils and local authorities, recognised that the problem of littering in its many forms, needed to be contained and not swept under the proverbial carpet.

One of the many leisure hot spots which was significantly affected as the sun shone down on us were our lovely coastal towns. As the day visitors descended, the local authorities literally fought on the beaches to combat the tide of the flotsam and jetsam of a 'nice day out'.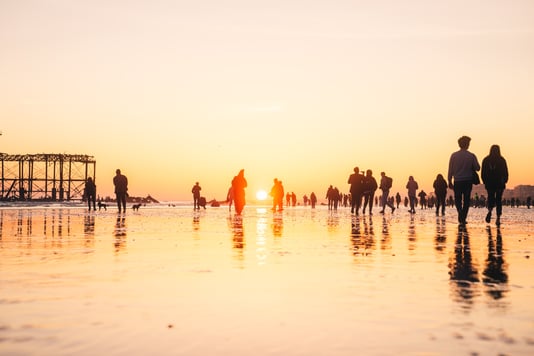 In Cleethorpes, our LAS Enforcement officers patrolled the beach area, chatting to the public and encouraging them to deposit their litter properly. However, they still had to issue Fixed Penalty Notices (FPN's) for littering.
Along the beaches of N.E. Lincolnshire, man's best friend contributed to the mayhem, thanks to irresponsible owners allowing their dogs to decorate the beaches with special presents; horrible to look at and a real health hazard to the public. Fortunately, the perpetrators were collared and saw their wallets shrink with a fixed penalty.

For some people the LAS team are seen as providers of an extra income stream for the local authorities, perhaps incentivised to issue fines regardless. This is incorrect; if someone does litter, it is an offence and a fixed penalty will be issued, it's the law, pure and simple. However, LAS believe that to educate will help eradicate this form of anti-social behaviour and empower people to take responsibility for their actions, and explain the issues to our new citizens, with the support of the 'Clean Up Britain' Organisation campaign.
Our partnership helped to produce an online resource for schools which, using a mixture of quizzes and group exercises, gets the children talking rubbish, but in a good way.
You will also remember that the pandemic affected many of our national events, which attract global audiences. The annual Oxford – Cambridge Boat Race returned at Easter 2021, but selected the River Ouse, Cambridgeshire, to stage this prestigious event. East Cambridgeshire council utilised LAS range of services to not only manage and advise on the disposal of litter, but to marshal the spectators along the riverbank so that enjoyed the day in safety.

Many of us will have been taught the 3'Rs at school, but Kingdom LAS we teach the 3 'E's – Education, Encouragement through Engagement. But if we do have to issue penalties the monies go towards funding community clean-up programmes and initiatives across the UK, so your waste isn't wasted.
By making sure that we take responsibility for the disposing of our rubbish and refuse today, we can make ensure that all the scenic jewels in our national crown are there to be enjoyed for the next generation…and the next.
If you work within local authority and would like to make your communities safer, greener and cleaner, please contact the Kingdom Local Authority Support team for professional help and guidance.

Kingdom Local Authority Support offer a range of educational materials and presentations aimed at supporting teachers to explain the issues surrounding the environment, pollution, and the positive steps that we can all take to make our communities cleaner and greener.
For more information, please contact the Kingdom Local Authority Support team.