We are delighted to announce our Senior Contract Manager, Jamie Graham, has officially been selected as a finalist for Security Manager of the Year, at the Security and Fire Excellence Awards 2021!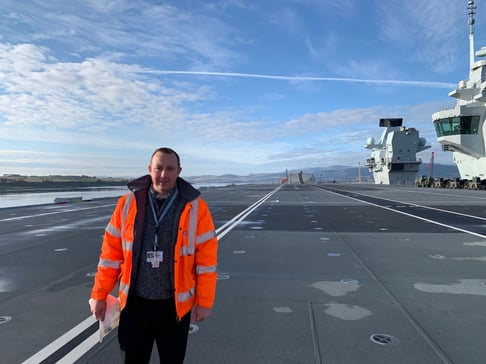 Jamie is constantly striving to improve service delivery across the whole of his portfolio and will always seek out innovative solutions to new challenges.
He has been instrumental in introducing 'Behavioural Detection Awareness Training' to Port staff to bolster staff awareness of visible signs of potential threats which can facilitate preventative interventions.
Again, this is yet another example of Jamie investing time training and belief in his people in the firm knowledge that this will bear fruit in terms of overall professional confidence.
Through Jamie's efforts Kingdom have now become a member of the IABDA (International Association of Behaviour and Detection Analysis), which has proven to be a significant differentiator for us in the security sector.
Jamie is always seeking to improve services and is never satisfied with mere compliance – this is demonstrated by the below quote from
Justine Walker, the Commercial Manager of SIMEC Lochaber, where Kingdom recently took over a contract following unsatisfactory performance by the incumbent:
"Things are going great thank you, sleeping a lot better thanks now I don't have to worry about the time office being unmanned! Jamie has been great also – His presence and actions on site the other day were brilliant!"
Compliance & Operations Director, Scotland & Ireland, Allan Jones, said:
"Jamie Graham is an exceptionally talented Senior Contracts Manager, whose dedication to clients, staff and employers are an exemplar of all that is best in the security industry.
He
began his career as a front-line security operative and has developed and progressed in all
aspects of the industry to become one of Kingdom Services Group's stand out managers and
leaders.
What sets Jamie apart is his devotion to training his staff to their optimum level of performance, his dedication to client satisfaction irrespective of time, distance, or inconvenience. Such commitment is rare but when it is present as it is in Jamie's case, the
dividends for clients, staff and employers are bountiful."
We caught up with Jamie to discuss his experiences working in security and this fantastic achievement.
Q: Tell us about your background in the security sector.
A: I've been in the security industry for around 16 years. I started off as a Retail Security Officer and moved to a Mobile Support Officer. I then got my first opportunity in management as a Control Room Manager in 2014. After that, I moved out of operations as Operations Support Manager, and am now a Senior Contracts Manager with a portfolio of 25 sites.
Q: Which sectors are you currently working with?
A: I'm currently working with a variety of different industry sectors; social housing, construction, manufacturing and logistics, commerce and port facility security.
Q: Which security qualifications do you currently hold?
A: I'm a fully accredited Port Facility Security Officer and completed this course in 2017. I'm also currently undergoing Kingdom's Aspiring Leaders programme. Looking forward to completing this at the end of February 2022!
Q: What will it mean for you to win the award for Security Manager of the Year?
A: This will be one of the biggest achievements of my career so far. All the years of hard work will have paid off, but, tough category, so fingers crossed!
Q: If you could give one piece of advice to anyone considering a career in security, what would it be and why?
A: I would say, learn from the good and bad experiences, and just be fair. There's so much experience out there, take it all on board and form your decision from there.
When advised of Kingdom's intention to nominate Jamie Graham as a candidate for Security Manager of the Year, Port of Cromarty Firth's Senior Operations Manager James Macfarlane commented:
"We (Port of Cromarty Firth Authority) are delighted to support your (Kingdom) proposal.
Jamie always ensures that customer satisfaction and staff wellbeing are a priority. He has established and maintained an excellent working relationship with Police and other training providers.
The high-profile security operations managed so far by Jamie in
2021 are the naming ceremony of Service Base new quayside which was officially opened by a member of the Royal Family' and the 'Port of Call' HMS Spey (Naming Ceremony).
Regardless of the time, day or night Jamie always conducts himself in a professional manner'."
A further customer who provided a glowing testimonial of Jamie was Ella Harkins, a Senior Manager at the Crown Office & Procurator's Fiscal Service, whose mobilisation Jamie successfully led following a competitive tender process in April 2021:
"I would just like to add that when I have met and spoken with Jamie he comes across as very confident and Knowledgeable re: his role. This also reflects on the security staff, as the Glasgow security staff are now very pro- active and more confident in their duties and roles,
with the standard of service being provided being very high. Well Done."