Leading Northern Ireland homecare provider merges with international medical, nursing, homecare staffing agency and care provider.

Trackars Healthcare, headquartered in Belfast has merged with Kingdom Services Group, a UK based international company with offices in India, supplying healthcare staff to the NHS Framework. The new company is now trading as Kingdom Healthcare Ltd.

Trackars, established 16 years ago, is considered an industry leader in Northern Ireland in its delivery of specialist homecare services for clients across the region.

The company has 250 dedicated staff providing the highest standards of care to thousands of clients across four Health and Social Care Trusts, the independent healthcare sector, housing associations, supported living services, and care at home.

We place staff welfare, innovation, and high quality of service delivery at the core of our services, suppling medical locums, nurses, midwives, theatre and ICU staff, healthcare assistants, security, and hygiene operatives across the UK.

Trackars Ltd has steadily expanded its healthcare provision across Northern Ireland from care- at- home and hospital- at -home services to include caring for those with the most complex needs who require bespoke services to live with independence and dignity.

Patricia Casement, the founder of Trackars Healthcare will take up the role of Managing Director at Kingdom Healthcare Ltd. Commenting on the merger Ms Casement said:

"This is a merger of two well matched cultures as both operations have consistently demonstrated their full commitment to providing quality services and safe care delivery to clients and guarantee the promotion of the health, wellbeing, dignity and independence to the individuals they serve.

This is a progressive succession plan for Trackars, pooling our expertise, technologies, and staff career development together."

Our CEO,Terry Barton said:

"We are delighted to have Trackars in the family at Kingdom.

We share a synergy and ambitions for high standards and safe delivery of healthcare.

We are committed to the development of our services, delivered by trained, experienced and specialist healthcare professionals recruited by us to ensure the quality of care is second to none.

We see great opportunities to enhance the offering to clients and to existing and potential staff".
As pictured below: Kingdom Services Group's CEO, Terry Barton, Healthcare Recruitment Resource, Stephanie Dutton, Managing Director, Patricia Casement, Recruitment Consultant, Andy Caulfield.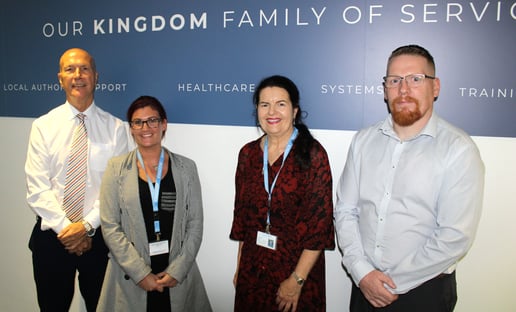 For further media enquiries contact Maria McCann at McCann Public Relations on 02890 666322 or mob 07802934246