MERRY CHRISTMAS We thought 2008 was busy but 2009 was probably the busiest year in the history of Kingdom. YOU played a major part in our many 2009 success stories and many thanks for sharing the journey with us, we really appreciate the job you do.
The January 2009 Messenger edition will reflect in the year that was.
Have a magical Christmas from everyone at the Kingdom National Support Centre and see you in 2009.
Terry Barton BA (Hons) Law
Managing Director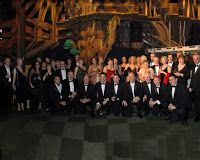 2009 Kingdom National Support Centre Christmas Party