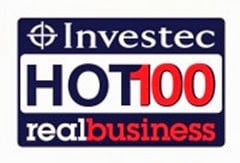 Kingdom is delighted to be included in the 2013 Real Business Investec Hot 100 – a showcase of the UK's fastest growing private companies.
Real Business first published the Hot 100 list in 1997. Now supported by Investec, Jordans, Cass Business School and Your Business Your Future, and having been published for 15 years, it is regarded as the most rigorous and definitive analysis of the UK's mid-market economy.
According to their website, the list provides rich insight into entrepreneurial business management and where long-term economic prosperity lies. It goes on to say that anyone interested in Britain's medium-term economic prosperity should study the 2013 ranking carefully. Business leaders will find a wealth of insight about where seams of business opportunity lie.
The entry about Kingdom on the Real Business Investec Hot 100 says the following:
Kingdom Security stands out in what is often perceived to be a murky industry. Before founding Kingdom Security, boss Terry Barton worked in the police, completed a law degree and trained to be a solicitor. When a local business asked Barton to recommend a security business, he didn't know any so did it himself. The company has been growing steadily since he set it up in 1993.
"It was a risk and a gamble," says Barton. "Kingdom Security has been the right move – it has been bloody hard work and hard graft."
Growing organically and through acquisitions, the firm now employs more than 1,000 people, undertaking guarding for clients as diverse as Spar, Savills, Ikea and the NHS.
The 2013 Hot 100 was announced at the 2013 Investec Entrepreneurs' Summit, held on June 7, 2013 at the London Corinthia.