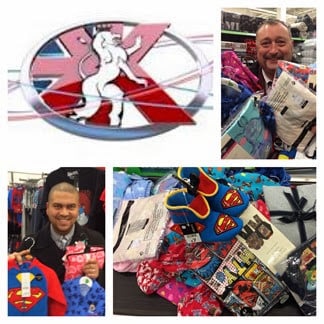 Two Kingdom employees helped a local Liverpool charity to provide new pyjamas for homeless children in the run up to Christmas.
A local Liverpool lady called Karen Downing saw a Shelter poster saying that 80,000 children across the UK would be homeless for Christmas. She felt compelled to do something to help, and with her friend Susan Jackson, decided to try to collect enough pairs of brand new, warm pyjamas to give all of the homeless children in three local shelters in Liverpool a pair of pyjamas to wear on Christmas Eve.
They set up Facebook and Twitter accounts for "Pyjama Party Liverpool", which led to 45,000 page views in 10 days and donations flooding in from all over the world. A third friend, Rebecca Chrystall, joined them, and they worked non-stop collecting donations and replying to messages of support.
Two Kingdom employees, Sam Appleyard and Delroy McGee, heard about the idea and helped by clearing all the pyjamas from a local supermarket and then delivering them to the collection area in Liverpool.
With the amount they collected and the amount already received, the ladies greatly exceeded their target of three shelters and were able to collect enough donations of new pyjamas for 11 shelters in Liverpool and two homeless charities working with disadvantaged children in the city too.
Click here to read the article in the Liverpool Echo about Pyjama Party Liverpool which interviews the ladies behind this incredible project. Congratulations to all involved on this incredible achievement.