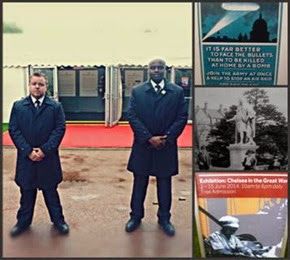 Kingdom is currently providing security cover to an event being held in central London.
The Chelsea Society is hosting a commemorative exhibition at Duke of York Square to mark the 100th anniversary of the start of World War I. The exhibition, entitled "Chelsea in the Great War" is open daily from 10am to 6pm between 2nd and 15th June. It is being supported by Kingdom's Duke of York team, who are charged with security cover for the exhibition, and who provide manned guarding security services to Duke of York Square. The exhibition is free and all are welcome.
The First World War started in Europe on 28th July 1914, although the event that sparked it, the assassination of Archduke Franz Ferdinand of Austria, happened a month before on 28th June. Britain entered the war on 4th August 1914. Events are being held throughout the year across the country to mark the 100 year anniversary.
The Chelsea Society was founded in 1927 by local historian Reginald Blunt with the aim of protecting the interests of all who live and work in Chelsea and to preserve and enhance the unique character of the area. To find out more about the activities of the Chelsea Society, click here to visit their website.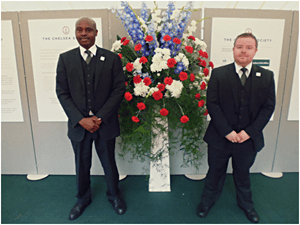 The Duke of York Square opened in 2003 and is the largest new public space created in London in the last 20 years. It is located on Kings Road, just off Sloane Square in central London. It offers an unrivalled range of international retailers, luxury office space, and seven leading restaurants and cafes with extensive outdoor space. It is also home to the iconic Saatchi Gallery, arguably the world's leading contemporary art gallery housing permanent and visiting international collections of sculpture and art. To find out more about the Duke of York Square, click here to visit their website.
Kingdom specialises in risk, loss and the protection of property, people and brand. Established in 1993, Kingdom has over 20 years experience in the security industry, and is now the largest privately owned national security company in the UK. Kingdom deploys fully licensed, permanent or temporary quality personnel on single or multiple sites. Their customers are big, small and across a diverse range of market sectors. For more information about Kingdom's security personnel, click here to visit their website.