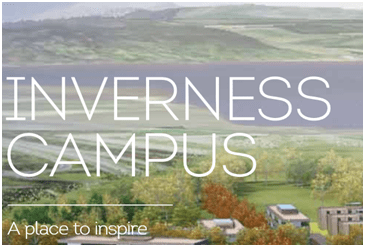 Kingdom is delighted to announce that, following a successful tender submission by their Scottish sales manager Jim Ferguson, they have been awarded a three-year contract to provide a bespoke security solutions service at the new and exciting Inverness Campus in Scotland.
Described as "a place to inspire", Inverness Campus is one of the most ambitious projects in Scotland and will be a nationally and internationally significant location for business, research and education.
Located just off the A9 at Beechwood on the eastern edge of Inverness, the Inverness Campus is being developed by Highlands and Islands Enterprise (HIE) and occupies 215 acres of prime development land sitting adjacent to a thriving life sciences and business community. HIE has invested £25million in the project which will provide a new home for Inverness College UHI (University of the Highlands and Islands), an enterprise and research centre, a life science building, sport facilities and a hotel. The first buildings are due to be completed in 2015 in time for the 2015-16 academic year, and once opened the Campus will offer a high quality, vibrant location for innovation, business, development, collaboration and learning. The new college will be able to accommodate more than 6,500 full-time and part-time students.
Kingdom has been actively involved on the Campus since its inception, working in partnership with both Morgan Sindall plc and Morrison Construction during the initial works phase. As well as the normal university buildings, the campus contains two main ponds incorporating 'beaches', weirs, walkways and pedestrian barriers. A further pond area will only fill with water after particularly heavy rain fall and there are also a number of small watercourses spanned by pedestrian bridges. These are going to be open to the public and will make the security both a challenging and interesting project for Kingdom's Inverness team and for local Operations Manager David McMillan.
Established in 1993 and operating nationally, Kingdom has over 20 years industry experience and is one of the largest privately owned companies in the UK within their areas of service expertise. They have all the power of a national organisation but support their service provision from their network of regional support offices.
Kingdom has a dedicated education team with extensive experience and an in-depth understanding to meet the special demands of the education sector, focusing on the criteria that matter most to their education customers. They specialise in safeguarding people, facilities and reputations, and provide a safe place to teach and learn. For more information about Kingdom's services for the education sector, please visit http://www.kingdom.co.uk/services/security-personnel/education-sector/ or click here to download their online Education Sector brochure.